Volume Profile Formula Course – Frequently Asked Questions (FAQs):
I've compiled the top 10 most popular questions about Volume Profile Formula and answered them as genuinely as possible. As someone who has been through every course created by Aaron Korbs, I know the ins-and-outs of what Tradacc has to offer.
1.

What is Volume Profile Formula?
Volume Profile Formula is an intro-level course that broadly covers the power of volume profile and Aaron Korbs' personal trading methodology. It's essentially a low-cost starting point for beginners. View my full Volume Profile Formula review here.
2.

What is Tradacc.com?
Tradacc.com is the website where you can find the main courses/programs and additional resources that Aaron Korbs has to offer. "Tradacc" is short for "Trading Accelerator" – which used to be the name of the flagship course Aaron Korbs offered.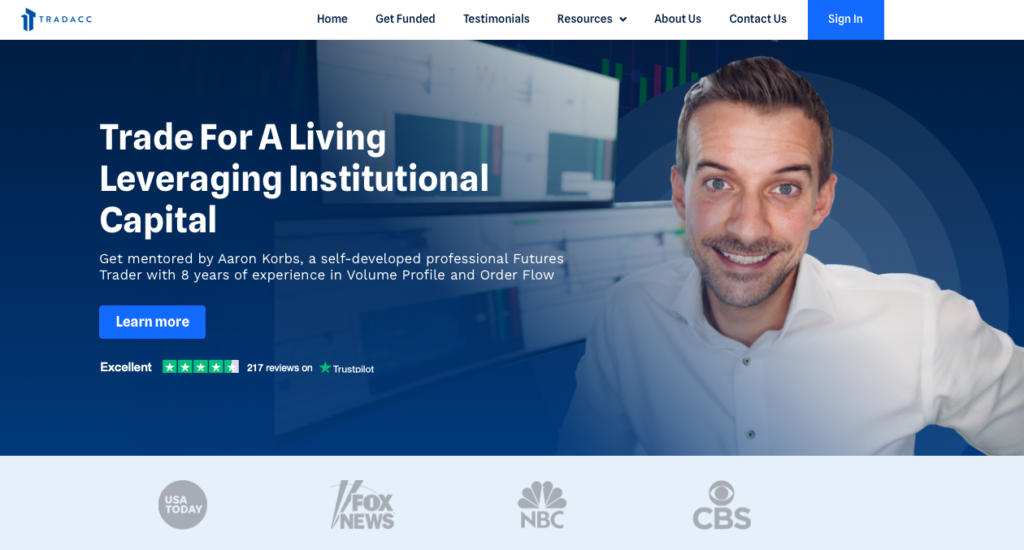 There is no longer a course called "Trading Accelerator", but many of the lessons/sections from it are still available in separate mini-courses. The 2 main courses currently offered by Tradacc are Volume Profile Formula (intro) & Profile Method (advanced).
3.

Who is Aaron Korbs?
Aaron Korbs is a full-time trader and trading coach/mentor that specializes in volume profile and order flow analysis.

He had limited formal education before pursuing trading (no high school or college diploma). But was able to "make the turn" to profitability after discovering the volume profile. He now teaches his methodology to others through Tradacc.
4.

What is Aaron Korbs Trading?
Aaron Korbs focuses on futures markets (mainly S&P 500 ES/MES contracts) on an intraday basis with a methodology rooted in auction market theory and volume profiling. It's an extremely strong/robust approach.
His methodology can certainly be applied to other markets, products, and timeframes – but Aaron chooses to specialize in 1 market (futures), 1 product (S&P 500), and 1 timeframe (intraday). As a result, he has deep competence/skill with his method.
5.

Is Aaron Korbs a Scam?
I don't think Aaron Korbs is a scam at all. His education, training, and mentorship have certainly helped me improve my own trading. And in regard to his trading results/track record, he trades live over Zoom for Profile Method students 3 days per week.
So there's really no question that his method works and he puts it on display almost every day. Even for non-members of his Profile Method program, he publicly shares his results multiple times per week through his Daily Profile Show on YouTube.
6.

Is Tradacc a Scam?
This is a similar question to the previous one, but I don't think Tradacc is a scam either. I've seen a few minor complaints from individuals who have purchased Volume Profile Formula, but I've never seen a complaint from a Profile Method student.
The main complaints revolve around Tradacc being "sales-y" and the Profile Method program being an "upsell". But I think this is just a matter of improper expectations – and a lot of beginners actually appreciate the progression from VPF to Profile Method.
7.

How Much Does Volume Profile Formula Cost?
The listed retail price for the Volume Profile Formula course is around $200, but is often offered for around $50 or less. It also comes with a 30-day refund policy, so there's really no risk involved in checking it out.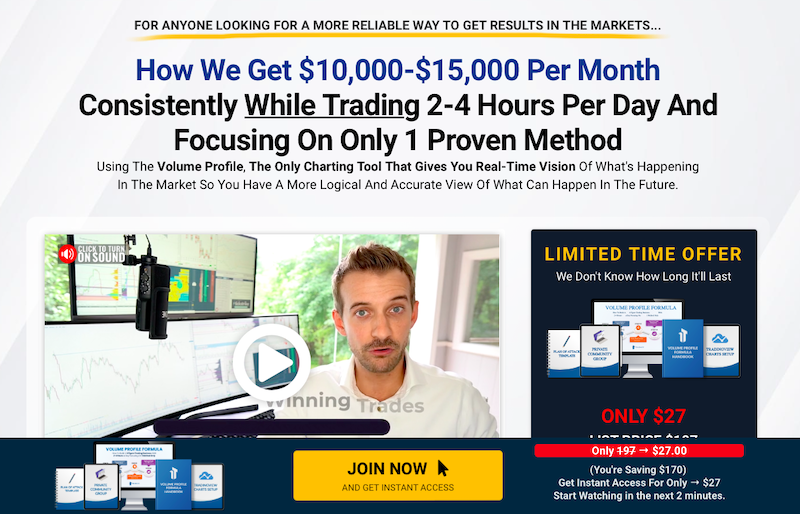 Several supplemental beginner-level courses are also offered along with it to help lay a strong foundation: Live Trading Showcase, Rapid Setups pack, Futures Masterclass, S&P 500 Secrets, Next-Level Risk Management, etc.
8.

What's the Difference Between Volume Profile Formula & Profile Method?
There's a major difference between the intro-level Volume Profile Formula course and the advanced Profile Method Program.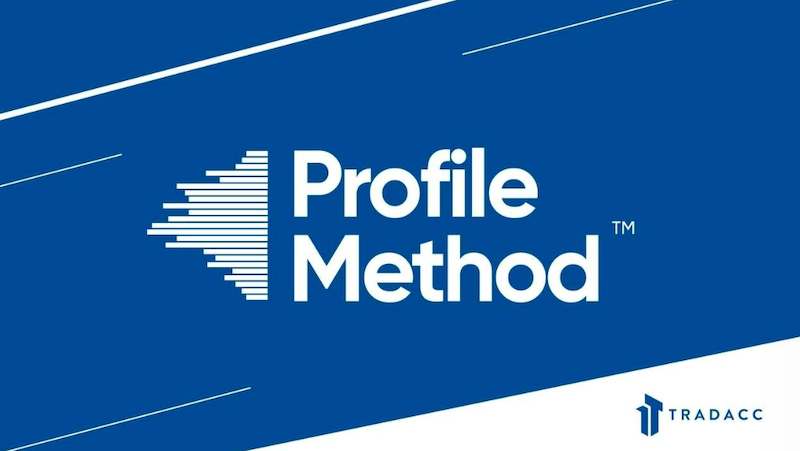 It's in no way an apples-to-apples comparison. The best analogy I can use to describe it is that Volume Profile Formula is merely the trailer/teaser video and Profile Method is the full-blown, award-winning movie.
Profile Method is far more interactive and comprehensive with better lessons, live trading sessions, Q&A's, and more.
9.

Is There a Way to Get Started Learning From Aaron Korbs For Free?
Yes, absolutely – and the best resource for that is his YouTube channel (@KorbsTrading).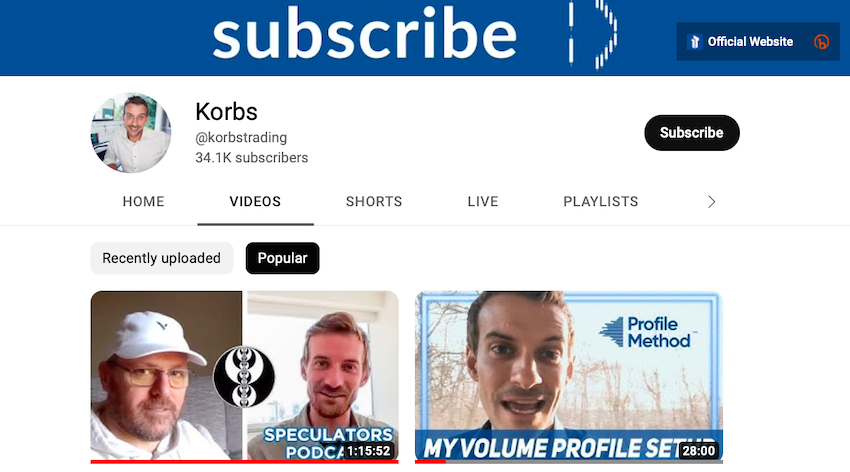 To be honest, all of the information provided within the Volume Profile Formula course can probably be found in some way, shape, or form on Korbs YouTube. It would just take more time to go through because it's not as concise as the VPF course.
There's really a ton of value offered there – not just from his videos covering futures, auction market theory, and profiling – but also various trading challenges that he's done and shows that he hosts: Daily Profile Show & Speculators Podcast.
10.

Overall, is Volume Profile Formula and Tradacc as a Whole Worth it?
In my opinion/experience, Volume Profile Formula is definitely worth it. It's basically free since it's typically sold for $50 or less – providing a low-cost introduction to the power of volume profile and Aaron Korbs' personal methodology.

And if you decide that this isn't a path you want to pursue further, then there's close to nothing lost in terms of time and money. But if you do want to take things to the next-level, top-tier training & mentorship is offered through the Profile Method program.
Ultimately, you have to decide for yourself if trading is something you're serious about and committed to building the competence/skill required for sustainable success. It's certainly not for everybody and takes quite a bit of work.
But if it is, there aren't many training & mentorship programs that I would put in the same echelon as Profile Method.
Written by Matt Thomas (@MattThomasTP)
Related Pages: