What is Tradacc.com – Accelerate Your Path to Consistent Trading Profits:
Tradacc (short for "trading accelerator") is a trading education company founded by Aaron Korbs – an active intraday trader and trading coach who specializes in auction market theory, volume profile methodology, and order flow analysis.

While Tradacc offers a handful of courses/programs and additional resources to help traders generate consistent trading profits, there are 2 main programs that stand out – Volume Profile Formula (introductory course) & Profile Method (advanced training).
Along with Aaron Korbs' YouTube channel – which provides a ton of great content regularly (Apex Funded Account Challenge, The Daily Profile Show, Speculators Podcast, etc.) – I think Volume Profile Formula is an ideal starting point for new traders.
It's only an introductory course, but I believe it to be well worth the cost because it points developing traders in the right direction in terms of futures trading, auction market theory, volume profiling, risk management, and proper mindset/psychology.
But most importantly, it lays a strong foundation for those who are fully committed to their own personal growth and skill development – and choose to pursue next-level training and mentorship through the Profile Method program.
The Tradacc mission is to help students build $10,000 – $15,000+ per month trading businesses using just one single method.
Tradacc Reviews and Testimonials – How is Tradacc (Trading Accelerator) For Beginners?
I highly suggest checking out the 100+ Tradacc reviews on TrustPilot (with a cumulative rating of 4.7/5 stars – "Excellent").
But as someone with personal experience with the Tradacc programs (as well as dozens of other trading-related courses, platforms, and services over the past 10 years), there are a couple things I want to specifically point out from my own perspective.
I think the biggest and pretty much only negative that I've come across with Tradacc is the marketing on some of their sales pages (like with Volume Profile Formula, for example). It just has a feel to it where I automatically thought it was a scam.
It was hard for me to look past this initially, but luckily I did because Profile Method is undoubtedly one of the best trader training programs available online. This goes to show how tricky it can be to differentiate legitimate programs vs. scams in this space.
But I don't think the (relatively few) Tradacc complaints and negative reviews hold much merit. Things are definitely a bit sales-y, but at least it's not in a "lifestyle marketing" type of way (with displays of exotic cars, mansions, stacks of cash, etc.).
What validates Tradacc in my eyes is the focus on the right things (futures trading, auction market framework, volume profile methodology, risk & money management, etc.) and the real, legitimate training offered through the Profile Method.
My Final Thoughts on Tradacc.com, Aaron Korbs, Volume Profile Formula, and Profile Method:
Overall, I believe Aaron Korbs to be one of the best day trading mentors currently available online – and I suggest checking out his free Korbs YouTube channel and low-cost Volume Profile Formula course to see for yourself.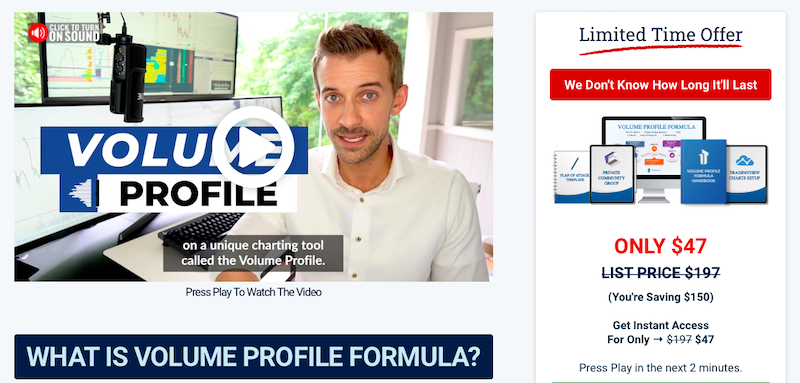 But don't have improper expectations about these two resources. Yes, I absolutely think they're valuable – but free YouTube content and a $47 introductory course aren't going to automatically turn you into a consistently profitable, six-figure trader.
If trading for a living or at least making trading a substantial portion of your income is something you truly desire, then the real training and mentorship is with the Profile Method. Volume Profile Formula merely lays the foundation for this advanced training.
You could theoretically bypass the Volume Profile Formula and skip right to the Profile Method if you're in search of advanced training. But the Volume Profile Formula essentially serves as a low-cost trial to see what Aaron Korbs and his methodology are about.
So starting with the Volume Profile Formula is a no-brainer (it's less than $50 and offers a 30-day money-back guarantee). If Aaron Korbs' trading methodology resonates with you, that's when you can consider leveling up to the Profile Method.
The training offered by Aaron Korbs at Tradacc is definitely something I wish I had available to me nearly a decade ago.
Written by Matt Thomas (@MattThomasTP)
Related Pages: