Who is Josh Schuler and What is Trade With Profile?
Josh Schuler is an active intraday futures trader and the founder of Trade With Profile – a high-quality trading education/training firm supremely focused on instilling students with legitimate skills and edge for long-lasting, sustainable market success.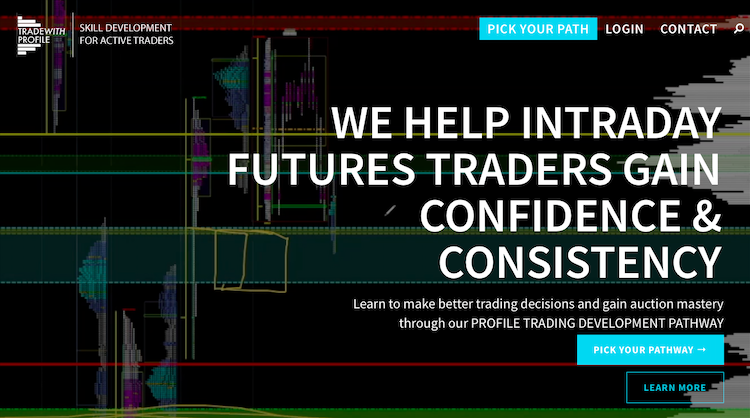 For individuals who want to become real traders – and not just copy-cat followers who blindly chase guru alerts/signals/hot picks – Trade With Profile is the real deal. Their 4-month training program is vastly underappreciated in an industry saturated with nonsense.
It's sad to see, but most new traders fall for the flashy advertising they see on social media – and end up purchasing/subscribing to all sorts of low-quality trading courses/programs/services as a result. But going down this route is extremely ineffective.
This is such a hard message to get across because showcasing lifestyle components (like fancy cars, mansions, boats, and stacks of cash) and making get-rich-quick promises is so captivating to the masses. But it's just a ruse to get you to buy something.
That's not how most legitimate traders and trading educators operate. You simply won't see Josh Schuler taking part in any of these typical gimmicks. Instead, he focuses on what matters – real training (edge and skill development) for durable, consistent profits.
Programs like Trade With Profile are where hopeful traders should be looking if they're actually committed to their own success.
3 Ways to Get Started Learning From Josh Schuler at Trade With Profile For Free:
What I like most about Trade With Profile is that it teaches a robust market framework with playbook setups/strategies that offer legitimate edge. It's not just vague, surface-level information – it's detailed, practical training that actually works.
It also helps that Josh Schuler is exceptionally good at explaining critical concepts and the nuances of trading. See for yourself:
1.

TRADE WITH PROFILE YOUTUBE CHANNEL
The best place to get started understanding Josh Schuler's personal trading style and how he and the Trade With Profile community approach markets (through the lens of auction market theory and volume profile/market profile) is through YouTube.
There you can find over a hundred videos that explain exactly what his education and training is all about. The videos are broken down into 4 main categories/playlists – Profiling Principles, Q&A Sessions, Weekly Market Outlook, and Market Review.
Even before going through any of these videos, I highly suggest checking out his explanation of the 4 questions every trader should ask/answer for themselves before placing/executing a trade. This is a foundational piece to the Trade With Profile approach.
From there, you can start digging into the instructional webinars and Q&A sessions on various profiling principles. The premium Profile Trading Development Pathway program is obviously much more in-depth, but these videos are a great starting point.
His weekly market outlook videos (which are about 30mins long) are a must-watch for me every Sunday afternoon/evening.
2.

JOSH SCHULER INTERVIEW ON FUTURES RADIO SHOW
In addition to the Trade With Profile YouTube channel, I would highly recommend checking out Anthony Crudele's interview with Josh Schuler on Futures Radio Show. This provides his background story and the details of his own path into trading.
Josh stumbled upon the markets as a retail trader back in 2009 (with no clue what he was doing at first), then transitioned to the institutional side with RJO'Brien for several years, and eventually went on to launch Trade With Profile in 2017.
Other Podcast Interviews Featuring Josh Schuler:
His personal experiences with various trading gurus/mentors are similar to my own. He found that most of them didn't really teach him how to be a skilled, self-sufficient trader; they just sent out their trade calls/picks/signals for him to copy.
But this approach just doesn't work long-term. It's insufficient because it undercuts trader development. With the launch of Trade With Profile, Josh wanted to do something drastically different – so he created a "skill development firm" instead.
Most people don't treat it like one, but trading is a skill-based activity that requires deep knowledge, practice, and experience.
3.

1-WEEK TRADE WITH PROFILE FREE TRIAL (GROUP PATHWAY)
After forming an initial idea of what Josh Schuler and Trade With Profile are all about, the best way to really grasp the training material being offered and start interacting with the TWP community is through a 1-week trial of the Group Development Pathway.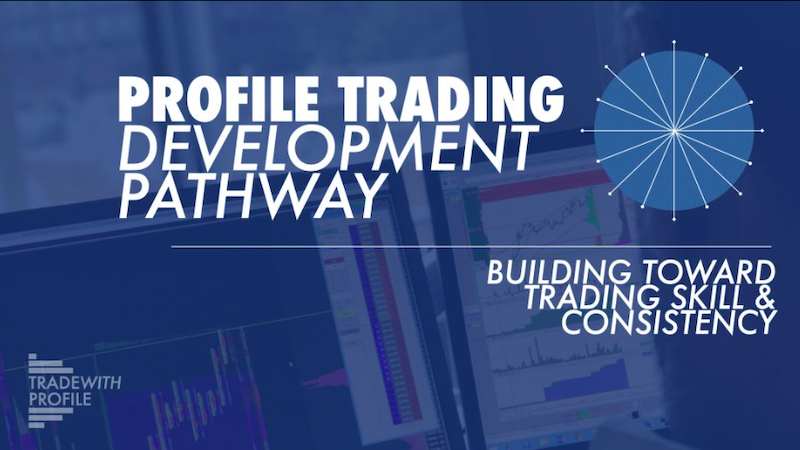 There are 16 main modules of the development program, so the Group Pathway is designed to take about 4 months to complete (covering 1 module per week). They're all interconnected, so they don't need to be taken in any specific order – you can join at any time.
Trade With Profile also offers a Video on Demand Pathway that provides access to all 16 modules at once for you to consume the material at your own pace. But there's no free trial available for it (at least not currently) – only the Group Pathway.
I also highly recommend everyone take advantage of a complimentary 1-on-1 review session with Josh Schuler. He offers a handful of 30-minute sessions on a weekly basis (first come, first serve) to discuss individual progress and actions for improvement.
This level of personal contact/communication is rare within an industry where most tend to hide behind their customer service teams.
Overall Thoughts on Josh Schuler and the Trade With Profile Training Program:
There's no doubt that Josh Schuler and Trade With Profile fly under the radar within the trading education industry. But what he offers is the real deal – it's legitimate training for individuals who are serious about building the skills required to succeed.
From high-level framework (based on auction theory and profiling) all the way down to specific playbook trade setups/strategies with edge, Trade With Profile is one of the most methodical and immersive training programs I've ever come across.
From my personal perspective, Trade With Profile doesn't receive anywhere near the respect it deserves. Sure, it has a decent following on Twitter (over 7,000 followers) and YouTube (over 1,000 subscribers) – but these numbers should be at least 10X larger.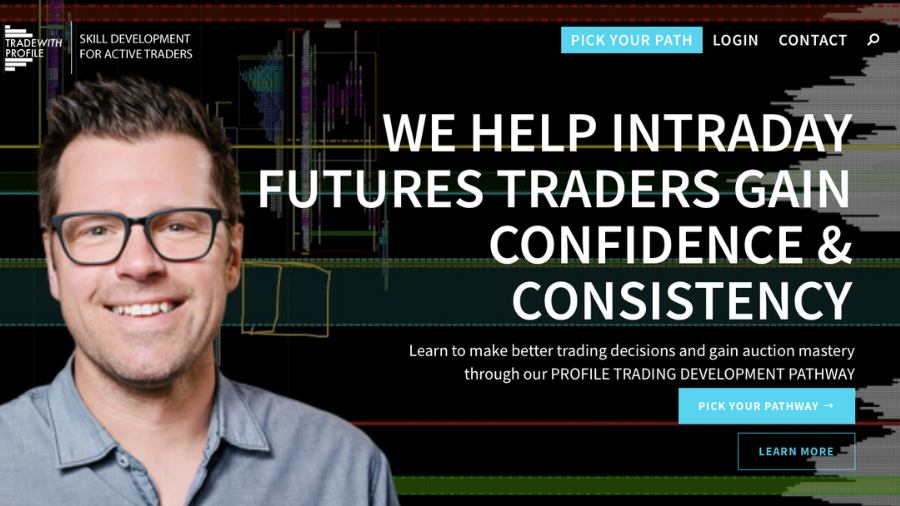 There are so many inferior gurus/courses/programs/services out there with ridiculous followings in the tens/hundreds of thousands. But their popularity is substantially linked to their use of flashy marketing/advertising and other gimmicks.
Overall, Trade With Profile is one of the select few no-nonsense trader training programs currently available online.
Written by Matt Thomas (@MattThomasTP)
Related Pages: