What is Volume Profile – Look Inside the Bars/Candles For Areas of Participation:
Volume profile is a powerful charting study/indicator that shows volume at price (as opposed to the conventional volume over time).
Many traders use bar charts or candlestick charts to track price action (which allow you to visualize the high, low, open, and close of a specified time period) – with volume presented below the chart (showing the volume generated for each individual bar/candle).

But volume profile provides an even deeper look into the bars/candles. Instead of only seeing how much volume was done over time, volume profile displays how much volume was done at specific prices. It tells you where the most business has taken place.
Certain prices are much more meaningful/significant than others. Prices that experience low volume (low participation) are weak and prices that experience high volume (high participation) are strong. Volume profile offers this extra dimension to volume analysis.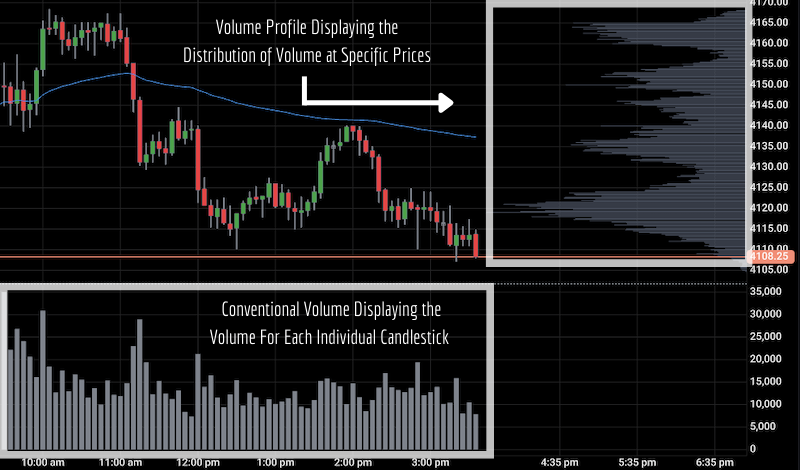 As a trader, knowing the price levels with the lowest/highest levels of participation can help you form proper expectations and plans. For example, you can expect that price is most likely going to move sideways or consolidate in the highest volume areas/zones.
That's because these areas are where lots of buyers/sellers are willing to participate and agree on price. There's relative balance in supply and demand. The price level with the most volume within a specific time period is known as the point of control.
Volume Profile vs. Market Profile – Are Volume Profile and Market Profile the Same?
Volume profile is similar to market profile, but they're not exactly the same. Both organize data into histograms – which provide critical market-generated information in clean, digestible ways. But the information each one provides is slightly different.
We've already discussed volume profile – which tracks volume at price. But market profile tracks opportunity at price – which is why market profile charts are also known as time-price opportunity (TPO) charts. So market profile charts and TPO charts are the same.

Even though volume profile and market profile are different, they're often used in conjunction with one another – especially by those who trade based on auction market theory (with the cornerstone of auction market theory being that price and value are not the same).
Price (which advertises opportunity) is only one component of value. But value is also made up of volume (which displays strength of participation) and time (which regulates opportunity and participation). So volume and time provide more context in regard to price.
When you view the market as a continuous 2-way auction and have this 3-pronged interpretation of value – volume and market profiling methods are simply the best ways to organize key market-generated information in order to make better trading decisions.
In my opinion, these tools are unmatched when it comes to recording and analyzing auction data (in any type of market).
Trade With a Better View on Markets – Understand What's Driving Price Movement:
Overall, what volume and market profiling provide is a more effective way of organizing data to reveal patterns in herd behavior.
I'm not discounting conventional methods of viewing markets (with bar/candlestick charts, for example), but these methods are one-dimensional. They're much better than line charts, but they still lack in structure. They don't expose the true character of the market.
Volume and market profile provide significantly more information in regard to the location of weak/strong price levels (areas of balance and imbalance). I often talk about "depth" in regard to market-understanding and analysis – and this is exactly what I mean.
Most traders get enamored by price, which is easy to get fooled by. But price is just an advertising mechanism. It's only one piece of the puzzle. Analysis based on value (price, volume, and time), on the other hand, presents evidence-based support and resistance levels.
Volume and market profiling aren't strategies in themselves – there's more to strategy development than that. But they're robust tools for organizing what would typically be a cumbersome amount of market data into graphically appealing distribution charts.
So if you're looking to more precisely observe and analyze the flow of market activity, and all the nuances and complexities that go along with it, then I highly suggest looking further into volume profile, market profile, and auction market theory.
Learn More in the Trading Success Framework Course
Written by Matt Thomas (@MattThomasTP)
Related Pages: