What is Trade With Profile – Is it the Best Training Program For Active Traders?
Trade With Profile is a skill-building/training firm created by Josh Schuler (a former institutional trader) that helps developing traders see markets more clearly and make better trading decisions through the application of auction theory and profiling tools.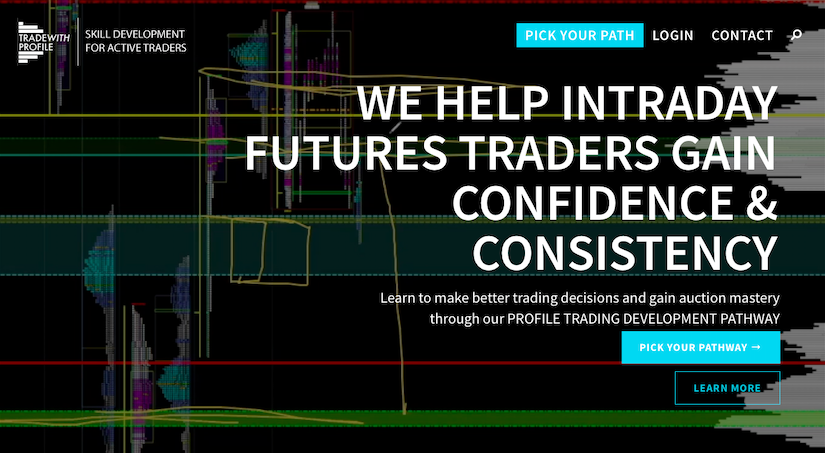 Even though the focus of Josh and the Trade With Profile community centers around futures markets – the auction process and profiling tools often used to observe/analyze them are applicable to other markets as well (stocks, cryptocurrencies, etc.).
If terminology like auction market theory, volume profile, and market profile are completely new to you, then I highly recommend checking them out. In my opinion, these are the building blocks for an in-depth understanding of how markets truly behave.
Most new/struggling traders don't even realize it, but their market framework is weak. They often get caught up in a one-dimensional, price-obsessed approach. But price alone doesn't tell the whole story. In fact, a surface-level view of price can be quite deceiving.
Before heavily adopting auction theory and profiling tools into my own approach, it often seemed like market movements were far too chaotic/random – like there was something I was missing. Fortunately, this framework lifted a fog from my market vision.
You'll probably never view markets the same way you once did ever again – everything else will seem impotent/inadequate.
What is the Profile Trading Development Pathway Offered By Trade With Profile?
The Profile Trading Development Pathway is Trade With Profile's training program. I suppose you could call it a "course", but I don't think that word does it justice. It's an immersive, methodical, and comprehensive development program for committed traders.
There are 3 different versions of the program depending on your preferred learning format – Self-Directed, Group, or 1-on-1 Mentorship – but they're all rooted in the same core curriculum that includes 16 interdependent auction principles.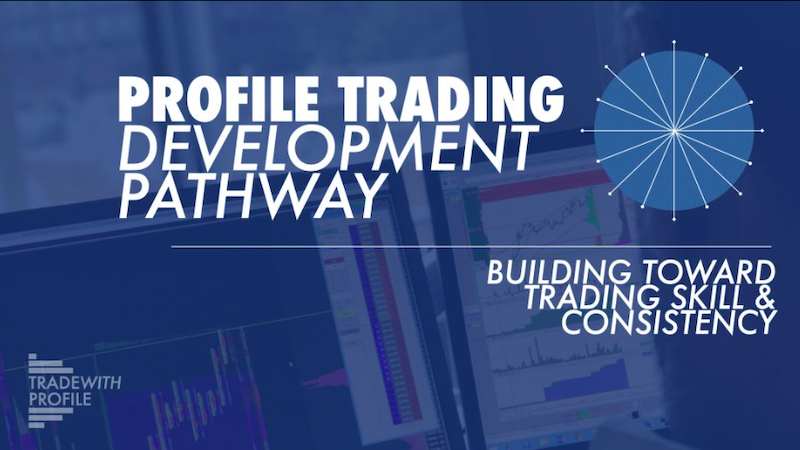 This is not your typical trading chat room or trade alert/call/signal service – this is robust training for individuals who want trading to be a significant portion of their income. The objective is to deliver competent, self-sufficient traders to the marketplace.
I don't often take this stance with most trading courses/programs/services because they tend to be quite expensive for how basic/lousy they are. But the Profile Trading Development Pathway is drastically underpriced for the real training that it provides.
It doesn't just teach you what auction theory and profiling are on a theoretical level – it trains you to effectively observe/analyze any market (with a high level of depth/context/nuance) and turn your newfound auction knowledge into something actionable.
Each student develops a solid "playbook" of setups for themselves grounded in auction structure/posture/probable behavior.
Gain Auction Mastery and Use Insight From Profiling to Make Better Trading Decisions:
Trade With Profile is a skill development firm for active traders. There are no ridiculous advertisements, profit proclamations, or other nonsense/gimmicks going on here. This is legitimate training for individuals who desire to be real traders.
Most online "trading education" these days is toxic. The landscape is saturated with low-quality alert services, newsletters, and chat rooms – where most subscribers are just looking to blindly follow some self-proclaimed guru's alerts/calls/picks.
But real traders aren't dependent on anyone else to tell them what to do. They're independent thinkers that know how to observe/interpret market dynamics/structure and recognize when good risk-reward opportunities present themselves.
When you build your trading approach within an auction framework and use profiling analysis to see what's really going on beyond price, you'll attain a level of market depth that many market participants simply don't have. It's extremely powerful.
When I think back to the way I traded before coming across auction theory and profiling – it's embarrassing to admit – but I was essentially trading blind. I experienced a moderate level of success, but this way of approaching markets is substantially better.
If your current approach feels insufficient, it might be time to upgrade your confidence and consistency with Trade With Profile.
Written by Matt Thomas (@MattThomasTP)
Related Pages: