What is Apteros Trading All About and Who Exactly is Merritt Black?
Apteros Trading is a service run by Merritt Black that offers training for traders, as well as an opportunity to earn a seat on his proprietary trading desk. So not only is high-level education and mentorship available, but it's also possible to get funded.
Before launching Apteros Trading, Merritt Black was the Head of Futures and Commodities Trading at SMB Capital, so it's safe to say he knows a thing or two about how to become a successful day trader. In fact, his specialty is developing traders from scratch.

I haven't quite had a chance to work my way through his NADRO course yet, but based on everything I've experienced regarding Merritt Black (YouTube videos, podcasts, etc.), I have a pretty good feeling about the training and funding opportunities he has to offer.
I think the fact that he offers training, mentorship, and an opportunity to get funded legitimizes him as a trading educator. Not only is he himself in the trenches every day, but he actually has an incentive to develop as many high-performing students as possible.
Merritt Black's level of loyalty and devotion to student performance is unrivaled in the futures trading space. His main goal is to generate consistently profitable traders and fund them with as much capital as they can handle. By doing so, all parties benefit.
What is NADRO – Is it the Best Futures Trading Training Program?
NADRO is a framework that Merritt Black and all of his students and prop traders use to understand and analyze markets. It's not some sort of magical indicator or foolproof system, but rather a way to look at markets in a systematic, probabilistic way.
NADRO is an acronym that stands for Narrative, Acceptance, Developing Value, Rhythm, and Order Flow. These main topics form the basis of the NADRO methodology. Merritt utilizes NADRO specifically for futures, but it's a framework that applies to all markets.
To put it simply, NADRO is a top-down approach to markets that helps frame context. In essence, it's a methodology that allows you to decode "what is" instead of what you want to see. It's not about predictions – it's about seeing markets as they are.
Once you see markets as they are, you can form short-term biases based on how markets are moving in regard to value (price, time, and volume). Most traders think price action alone is king, but price action is only a piece of the contextual picture. Context is king.
I won't go much more in-depth on the NADRO methodology because I haven't been through the course yet, but from YouTube videos and podcasts, I can tell that Merritt approaches markets much differently than the average self-proclaimed trading guru.
Best Apteros Trading Alternatives – Trade With Profile & Tradacc:
TRADE WITH PROFILE
What is Trade With Profile?
|LEARN MORE ABOUT JOSH SCHULER & TRADE WITH PROFILE|
TRADACC (TRADING ACCELERATOR)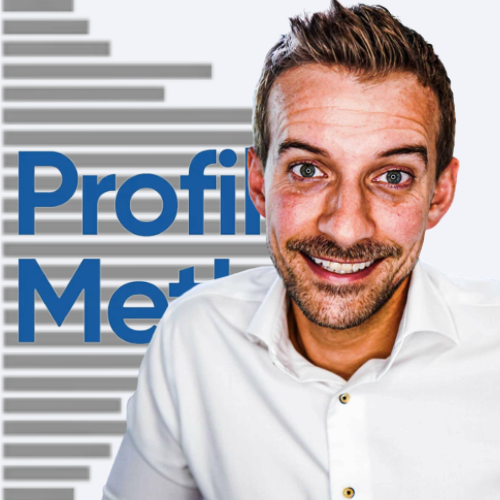 What is Tradacc (Trading Accelerator)?
|LEARN MORE ABOUT AARON KORBS & TRADACC (TRADING ACCELERATOR)|
Apteros Offers Professional Training Alongside Merritt Black With Unlimited Potential:
One of the main things that stands out with Apteros is the fact that they offer both professional training and the opportunity to try out for a seat on their proprietary trading desk. So the incentive for Merritt to develop consistently profitable traders is clear.
He has a stake in every student's success – the more effort he puts into education, training, and mentorship, the more students will try out and get funded with firm capital, and the more money both him and his students make. So it's a win-win for everybody.

This incentive isn't necessarily there for other trading educators only selling training. You'd probably like to think that these individuals actually care about you, but many times they put much more effort into advertising than actually creating quality products.
The sad reality, especially in the trading education industry, is that you don't necessarily need a great product/service in order to make sales. If you show luxury cars, stacks of cash, and highlight lifestyle components through marketing, you can virtually sell anything.
But that's not what Apteros does at all. They offer high-level training and mentorship with a clear end goal – to fund you with as much capital as you can reasonably handle. They actually care about your development because your success is ultimately their success.
Conclusion – Is Apteros Trading Worth Pursuing to Learn, Train and Get Funded?
Again, I haven't yet been through the NADRO course, but I have a good feeling about what Merritt Black has to offer at Apteros. Based on what I've seen and heard regarding his methodology, it's clear that his training is different than what you might typically find.
We're talking about an ex-prop trader who was once the Head of Futures Trading at SMB Capital – a prop firm created by Mike Bellafiore and Steve Spencer in Midtown Manhattan, known for producing some of the most elite traders in the game.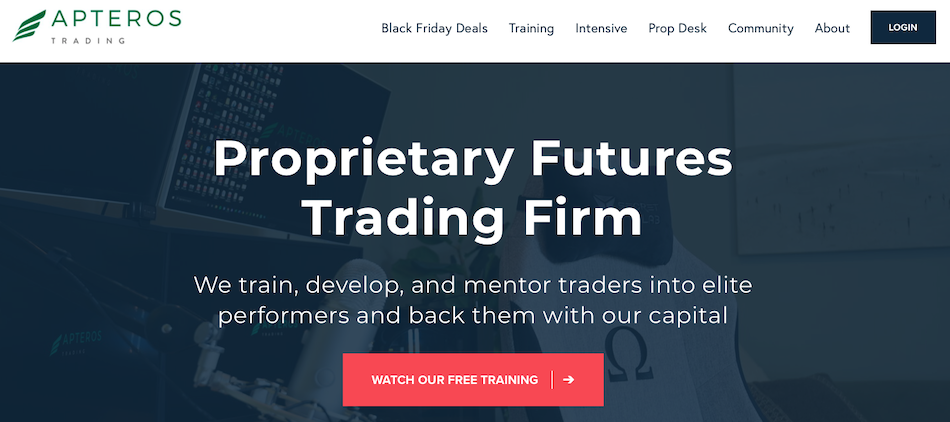 SMB Capital also runs a similar model where all of their prop traders have gone through the same in-house training program – a program that they believe helps lay the groundwork for becoming a great trader. The training helps SMB recruit talented individuals.
This same sort of approach seems to be what Merritt Black has taken to Apteros – to provide the necessary training and then funding for success. In my opinion, this type of business model serves both the training providers and users extremely well.
In the future, I look forward to digging deeper into Apteros Trading and everything they have to offer. But if you have firsthand experience with Merritt Black and Apteros Trading, please share your thoughts and experiences in the comments section below.
Check Out My Free Trading Success Framework Course
Written by Matt Thomas (@MattThomasTP)
Related Pages: