How is Trade With Profile For Beginners – The Profile Trading Development Pathway:
Trade With Profile is a top-rated trader development firm founded by Josh Schuler in 2017.
Josh Schuler is an active, full-time trader (primarily futures and options) with well over a decade of retail and institutional experience. He created his Profile Pathway to help aspiring traders acquire legitimate market competence and trading skill.
Typically, this course/program tends to attract traders who have been in the markets for a while and still feel like they're missing something in regard to their overall market understanding and methodology (that's exactly how it was for me).
But, unfortunately, I think a lot of new/beginner-level traders are dangerously unaware of how little they know about trading and markets – and highly distracted by all sorts of basic, surface-level nonsense floating around out there on the internet.
As a result, it's common for The Profile Trading Development Pathway to get written-off as too "advanced" or "complicated". But in my opinion/experience, it's a huge mistake to think this way – because it's exactly what new traders need to succeed.
So if you're serious about the craft of trading and want to be consistently profitable (not just get lucky for a short period of time, but actually generate sustained profits month-after-month), then it requires deep market competence and trading skill.
How is The Profile Trading Development Pathway Beneficial For Beginner-Level Traders?
Beginner-level traders simply don't know what they don't know. They have a high level of incompetence and often don't even realize it (aka unconscious incompetence). They tend to believe that trading is all about finding some holy-grail setup.

First of all, no holy-grail exists (being wrong and losing sometimes is an unavoidable aspect of trading). And second of all, their idea of what constitutes a setup/strategy/system with real, meaningful edge is often flawed/inadequate.
The typical experience of a new trader is to learn some basic technical analysis concepts (like what candlesticks are and various patterns/structures associated with them: doji, hammer, double top/bottom, cup and handle, etc.) and think they have edge.
But this is nowhere close to real edge – it's all just surface-level knowledge. I'm not saying this stuff isn't good to know, but it's not anywhere near as meaningful as most people think. By itself, this knowledge just produces crowds of ill-equipped market participants.
Armed with a shallow/superficial market understanding, these "traders" dive into live markets and make little to no profit. And believing that they already have the technical/edge component in place, they start barking up the mindset/psychology tree.
Granted – they probably do have major mindset issues. But the core issue is not having deep market competence to build upon.
Trade With Profile is Designed For You to Build & Refine a Robust "Playbook" of Trades:
I keep mentioning market competence – and what this means is truly understanding market behavior.
It doesn't mean blindly copying some guru's trade via text/email alert. Nor does it mean arbitrarily buying & selling based on some moving average cross or MACD reading. These are dangerous, mostly ineffective ways to trade.
When most beginners share their approach, it becomes quite clear why they're struggling. They're almost always trading based solely on "triggers" and not a comprehensive methodology. Entry triggers are just one small part of a robust strategy/system.
What they're missing is a strong contextual approach (with the help of volume profile & market profile to discern key levels and structure) and a robust playbook of 4-question trades. Luckily, the training at Trade With Profile helps fill these massive gaps.
Knowing what I know now (thanks to high-quality mentors like Josh Schuler, Aaron Korbs, Merritt Black, and Morad Askar), most of what I learned over-and-over again in regard to setups/strategies through countless basic courses was essentially useless.
So going through a course/program like Profile Pathway right from the start is actually one of the best routes you can go down, in my opinion. You'll save a ton of time, money, psychological capital, and not have to unlearn the nonsense you've been taught elsewhere.
Tip – Start With the Build2Profile Modules as a Beginner and Progress From There:
If you're an absolute beginner trying to figure out what trading truly entails from a core foundational perspective, I highly recommend my free Trading Success Framework course. This is 25+ lessons of extremely powerful insight/wisdom.

Once you go through that course and decide that trading is a pursuit you're 100% serious about, then the training and mentorship that Josh Schuler provides at Trade With Profile is an excellent next step for development.
I understand for beginner-level traders that the 16 core modules of the Profile Pathway might seem like "The Matrix" at first (confusing/overwhelming). So I would suggest going through the 12 Build2Profile modules first to help lay the groundwork.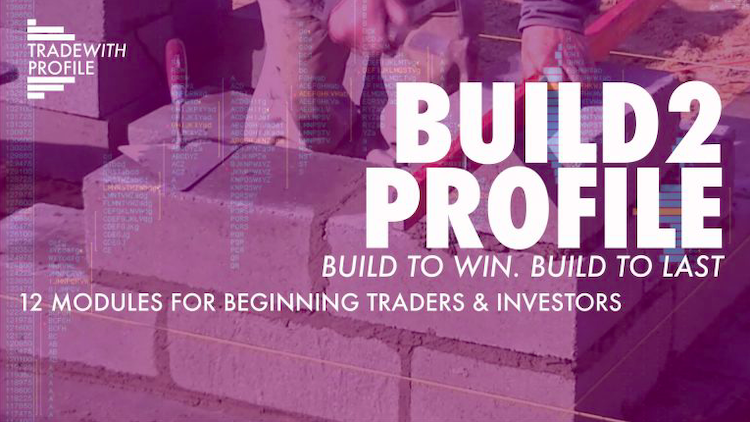 These modules cover a lot of market/trading basics – like the difference between trading and investing, what a strong trade plan requires, why profiling is so powerful, the benefits and risks of stocks, options, futures, and forex, and more.
So keep in mind that you don't have to jump straight into the Profile Pathway and feel lost. Build2Profile can help ease you into it. These beginner-level modules are included within the Profile Pathway program (or can be purchased on their own for $76).
Overall, any serious/committed trader (beginner or not) can greatly benefit from Josh Schuler's training & mentorship at TWP.
Written by Matt Thomas (@MattThomasTP)
Related Pages: