What Critical Information Does Volume Profile Tell You as a Trader?
Most people who talk about volume profile and/or market profile  jump too quickly into the typical jargon – immediately firing off terms like opening range, initial balance, point of control, value area highs/lows, day types, opening types, and more.
While these terms/concepts are important to understand in order to effectively trade based on volume profile analysis, it skips right over the critical explanation of what volume profile really tells you from a core foundational level.
In essence, volume profile is a histogram that displays participation at specific prices. It's an in-depth visualization of where market participants are showing interest (or lack of interest). It exposes the "quality" of price with a visually appealing graphic.
It's a unique (and more powerful) way to organize and interpret participation. Most traders, for example, only view volume at the bottom of their charts on a candle-by-candle basis – and don't really understand what's going on inside those candles.
Which prices are most important? Where are buyers and sellers the most and least willing to come together and do business? Which prices are experiencing acceptance (high participation) or rejection (low participation)?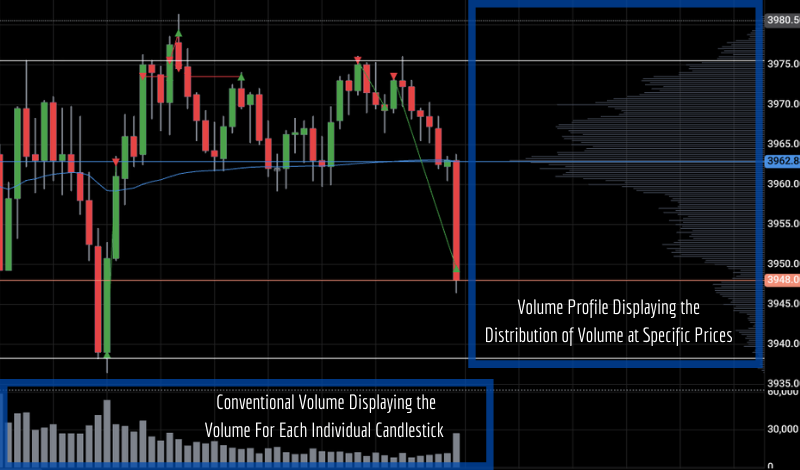 These are some of the nuances of the market auction process that most retail traders simply don't consider or understand.
Volume Profile Tells You Where Market Participants Are Willing to Get Involved:
Saying that volume profile "tracks participation" might not sound all that exciting or special, but it's extremely significant.
When you can clearly see where market participants are willing and not willing to get involved, you can generate high-quality trade ideas/plans based on that information. I would argue that no other indicator or charting study is anywhere near as meaningful.

Back when pit trading was relevant, traders relied heavily on sound to tell them when other market participants were willing and not willing to get involved. So physically being in the pit provided a massive competitive advantage over the masses.
Now that electronic screen trading has far surpassed pit trading, it's a slightly different experience. The sounds of the pit are no longer present, so sight (through the lens of a powerful graphic like volume profile) has become even more important than ever.
Seeing a low volume node on volume profile chart, for example, is extremely meaningful because it's a level that the market is rejecting. So if/when price reaches that level again, just imagine the pit most likely getting quiet due to disinterest/low participation.
Physically being in the pit had its perks, but similar information can be gleaned through a graphic like the volume profile.
2 Top-Rated Volume Profile Coaches/Mentors – Josh Schuler & Aaron Korbs:
For in-depth training and mentorship around volume profile, I highly recommend Josh Schuler and Aaron Korbs.
Josh Schuler is the founder of Trade With Profile – which offers the Profile Trading Development Pathway program. And Aaron Korbs is the founder of Tradacc – which offers 2 main courses/programs: Volume Profile Formula (beginner) & Profile Method (advanced).
WHAT IS TRADE WITH PROFILE?

HELPFUL RESOURCES:

WHAT IS TRADACC (TRADING ACCELERATOR)?

HELPFUL RESOURCES:
With this TradingParadigm website, my overarching goal is to point developing traders in the right direction in terms of legitimate edge development – and these 2 programs are easily some of the best available online in that regard (and I've been through dozens).
I currently have Trade With Profile listed as my #1 advanced training program and Tradacc listed as my #1 next-level mentorship program. But it's really just splitting hairs. These are both incredible training/mentorship programs for serious traders.
I'll probably publish an article/video breaking down the similarities and differences between the two at some point in the near future. But it really comes down to personal preference. Which mentor/coach resonates with you more – Josh Schuler or Aaron Korbs.
Overall, I think Trade With Profile offers the best overall value, but both Trade With Profile and Tradacc are well worth pursuing.
Conclusion – 

The Market is Telling a Story and Volume Profile Provides the Narrative:
The mistake that most retail traders make is getting enamored by price; they're constantly chasing it up and down without any real understanding of the auction process. But price is merely an advertising mechanism. It's virtually meaningless without context.
A great analogy for this way of trading (by chasing price) would be like trying to play soccer, baseball, basketball, football, or any other ball sport without being able to see the other players on the field/court. All you can see is the ball.

But the positioning and posture of the other players provides important context for how you personally should act. Without this context, you're left chasing the ball around with an extremely limited understanding as to why it's moving from one spot to the next.
Yet this is exactly how most individuals behave within the market environment. They try to implement a one-dimensional, price-obsessed approach without regard to value (all 3 elements of price, time, and volume). They disregard the context/narrative.
But the market is always telling a story. It's laying out the plot (context) – and it's your job as a trader to come up with the most likely "endings" (hypos) and build a risk process around those circumstances (plans with asymmetric risk-reward).
To me, trading without volume profile is like trading blind. In its absence, market movement is extremely chaotic/confusing.
Written by Matt Thomas (@MattThomasTP)
Related Pages: