Josh Schuler Biography – Who is Josh Schuler as a Person/Trader/Investor/Entrepreneur?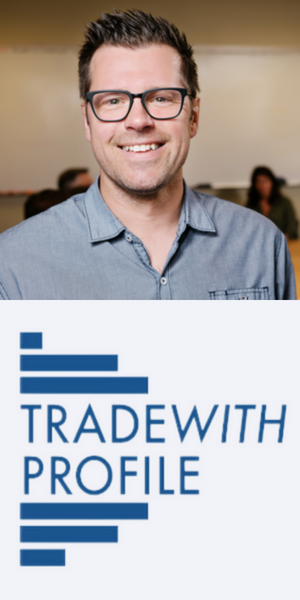 Josh Schuler has a wide-ranging background of life and work experiences. He originally went to school to become an attorney, but changed course to become a pastor. Then during his tenure as a pastor, decided to get an MBA. While pursuing his MBA, he got introduced to stocks and options trading. A few years later, he became a full-time retail trader. Several years after that, he also started working on the institutional side for RJO'Brien (the oldest and largest independent futures brokerage in the United States). A year or two after that, he founded Trade With Profile to help developing traders better understand market behavior and build legitimate trading skills. He also recently launched Miiflo – which attempts to offer institutional edge to the everyday retail trader/investor through "drips".
Overall, Josh Schuler has extensive experience in various entrepreneurial pursuits related to trading/investing and business consulting. He's a Commodity Trading Advisor (CTA) with a Series 3 License registered with the National Futures Association (NFA). In addition to that, he has an MBA from the University of Southern Indiana and nearly two decades of business training/consulting in tech, investment banking, non-profit, and more. He holds leadership and/or ownership roles in various business consulting firms, including: Agora Consulting, The Trebuchet Group, and Farrington Gale LLC. There's no doubt that Josh Schuler brings a wealth of wisdom/experience to the table in all of these realms and is a trusted mentor to many. I personally believe that his Profile Trading Development Pathway is one of the best training/mentorship programs in the futures trading industry.
Learn More About Josh Schuler, Trade With Profile, and His Profile Pathway:
Josh Schuler is very clearly a high-character person with great values, which is probably why I like him so much.
He doesn't take part in any nonsense advertising/marketing or gimmicks – which has unfortunately become standard within the trading/investing space. What he offers is real education, training & mentorship to individuals who are deeply committed to success.
His refusal to take part in nonsense marketing is probably why he's relatively unknown. But be careful: don't mistake his lack of mass popularity for lack of quality training and mentorship. He's by far one of the best (most real/authentic) trading mentors out there.
This is often hard for people to understand – that being the most popular trading mentor doesn't necessarily equate to being the best. But I've been doing this long enough to know the difference between what people are attracted to and what actually works.
What Josh Schuler offers is the real deal. But since it requires legitimate hard work (study, deliberate practice, etc.), the masses aren't anywhere near as attracted to it as as they are to flashy get-rich-quick programs (that don't actually work).
So if you're serious about becoming a real (skilled/competent) trader, then I highly suggest Josh Schuler as a mentor.
Written by Matt Thomas (@MattThomasTP)
Related Pages: