Trade With Profile Review – Who is Josh Schuler and What is Trade With Profile?
Trade With Profile is a skill development firm for active traders that was founded in 2017 by Josh Schuler.
Josh Schuler started out as a retail trader/investor in 2009, then transitioned to the institutional side in 2012, and then went on to launch Trade With Profile in 2017 to help coach/train/mentor traders in a methodical, immersive, and comprehensive way.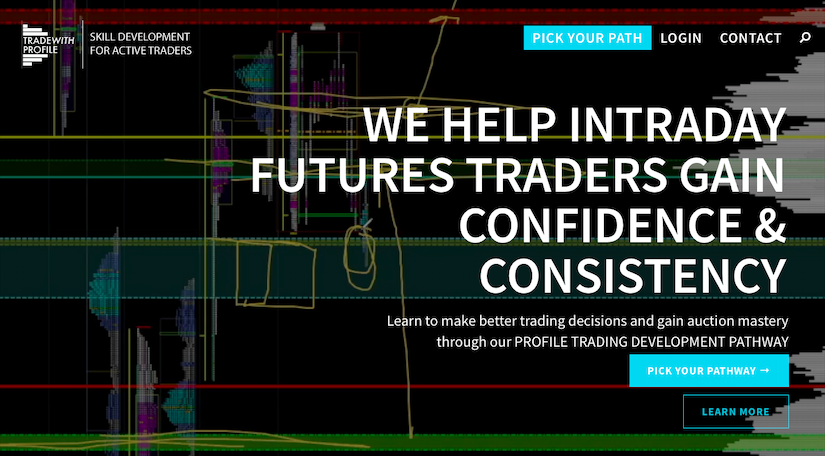 I can relate quite a bit to his own experiences with the trading education industry – in which he struggled to find guidance from skilled, competent traders who could actually train him to become self-sufficient with an effective, systematic approach.
Some of the mentors Josh came across were indeed skilled, proficient traders, but their education/training method was to merely let him watch them trade – and somehow he was supposed to absorb the required skills he needed through osmosis along the way.
Occasionally there would be some sort of course to go along with it, but they would often be confusing/incomplete/low-quality. Suffice to say that these forms of education/training were inadequate. Sadly, however, this is what the bulk of the industry tends to be.
To fill this void, Trade With Profile was created to focus on high-quality instruction paired with real-life immersion and feedback.
Trade With Profile Pros & Cons – Who is the Trade With Profile Training Program For?
Trade With Profile is specifically geared toward active traders (day and swing traders) operating within the futures markets. But the auction and profiling principles they teach can be applied to any market, instrument, or time frame you choose to trade.
When most people hear the term "trading", they often assume stocks/stock market – that's kind of the default product/market that comes to mind. But I've found my personal preference to be futures (after years of only trading stocks and options).
It's not really the space where beginners tend to look first because they're often attracted to things like penny stocks, small caps, and cryptocurrencies. But trading futures offers numerous benefits – access, liquidity, versatility, leverage, lower taxes, etc.
On top of that, I've also come to find that the best trading courses/programs/mentors exist within the futures space. This is just a personal observation based on years of scouring the trading education landscape, but I don't believe it to be a mere coincidence.

So the Trade With Profile training program – Profile Trading Development Pathway – is for individuals who are serious about developing professional-level trading skills and legitimate edge. It offers robust/comprehensive training for dedicated traders.
If You're Currently Struggling in These Areas, Then Trade With Profile Might Be For You:
Framework For Market Behavior is Weak (Limited Understanding of the Auction Process)

Process For Building Trade Plans/Hypos Lacks Consistency, Clarity, and Meaningful Context

Don't Know What Levels/Zones to Get Involved For Better Odds of Favorable Trade Outcomes

Methods For Interpreting Market-Generated Information Are Ineffective (Poor Application of Volume & Market Profile)

Been Exposed to Auction Theory and Profiling Tools, But Haven't Been Able to Turn Them Into Something Actionable

Spent Too Much Time and Money Chasing Guru Alerts/Signals/Picks and Finally Ready For Real Training
If any of these struggles resonate with you, Trade With Profile can help you build confidence and consistency in your process through the development of legitimate skills and edge. The training is designed to deliver competent, self-sufficient traders to the marketplace.
What is in the Trade With Profile Training Program – Profile Trading Development Pathway?
As we've touched on a few times already, the Trade With Profile training program is rooted in the overarching concept/framework of auction market theory and the volume profile & market profile tools often used in conjunction with it.
But there's much more to the Profile Trading Development Pathway than simply covering these topics on a conceptual level. It also offers daily trade plans, homework assignments, and live market immersion for turning that knowledge into skills.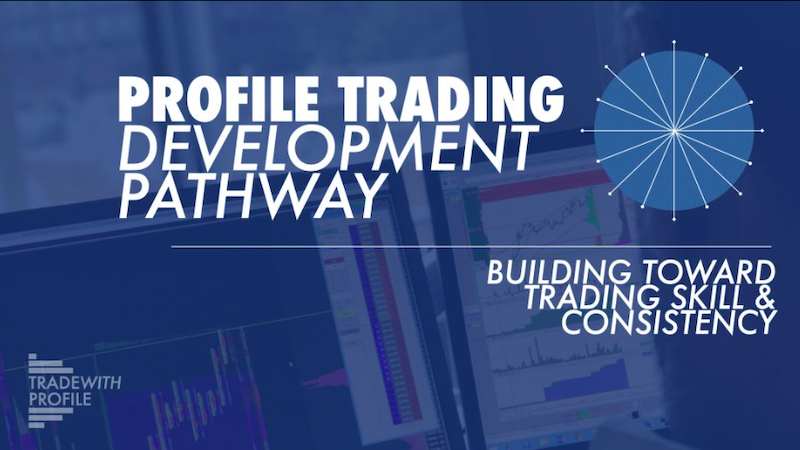 In fact, the program goes all the way down to the tactical aspect of building your own specific "playbook" of trade setups based on the markets/instruments/time frames you trade, along with your individual risk tolerance, cognitive strengths, and overall preferences.
The program doesn't leave you hanging to develop your own trade setups from scratch. The current curriculum covers 18 playbook setups that you can implement/adapt to your own approach – all based on market posture and probable behavior.
Here's What Each Module of the Profile Trading Development Pathway Covers:
DETERMINING AUCTION PHASE TO SET FUTURE EXPECTATIONS

USING AUCTION SESSIONS TO FIND BETTER TIMES TO BE ACTIVE

DETERMINING AUCTION DIRECTION AND QUALITY THROUGH PRICE ACCEPTANCE

MONITORING AND EXECUTING BASED ON PRICE AND VALUE PLACEMENT

USING AUCTION BALANCES TO PREDICT PENDING MOVES

USING AUCTION EXCESS TO FIND AUCTION EXHAUSTION

USING VALUE MIGRATION TO PREDICT FUTURE PRICE ACTION

USING ORDER FLOW TOOLS TO BUILD DIRECTIONAL CONFIDENCE IN THE AUCTION

USING PROFILE STATISTICS TO SET REASONABLE AUCTION EXPECTATIONS

USING THE PROFILE TO CONSTRUCT AND MONITOR A DIRECTIONAL BIAS

USING MILTI-TIMEFRAME AUCTION POSTURES TO SET CONTEXT AND EXPECTATION

USING THE PRIOR AUCTION TO DEFINE DECISION LEVELS FOR THE PENDING AUCTION

USING THE TPO PROFILE TO IDENTIFY AND LEVERAGE POOR AUCTION STRUCTURE

USING SMALLER AUCTION TIMEFRAMES ALONGSIDE THE PROFILE TO TRIGGER INTO A TRADE WITH TIGHTER RISK

NEWS CATALYSTS AND IMPACT ON AUCTION STRUCTURE AND EXPECTATIONS

USING AUCTION OPEN TYPES TO PREDICT THE REMAINING AUCTION
Each module of the course includes a video lesson/lecture (about one hour long), trade examples to clearly demonstrate real-life application, and homework assignments to reinforce the critical concepts and skills being taught.
Understand that consistently profitable trading performance doesn't come from luck/chance; it comes from skill/edge.
Profile Trading Development Pathway – Group Study, Self-Directed, or 1-on-1 Mentorship:
Depending on the learning format you prefer, there are 3 Profile Trading Development Pathway options to choose from. They differ slightly in regard to support/engagement, but all revolve around the same core curriculum (the 16 modules mentioned above).

GROUP STUDY
The group study pathway focuses on just one module per week – unlocking the next module every 7 days. So it's a controlled approach that allows ample time for the training material to sink in. Community support is also an added benefit.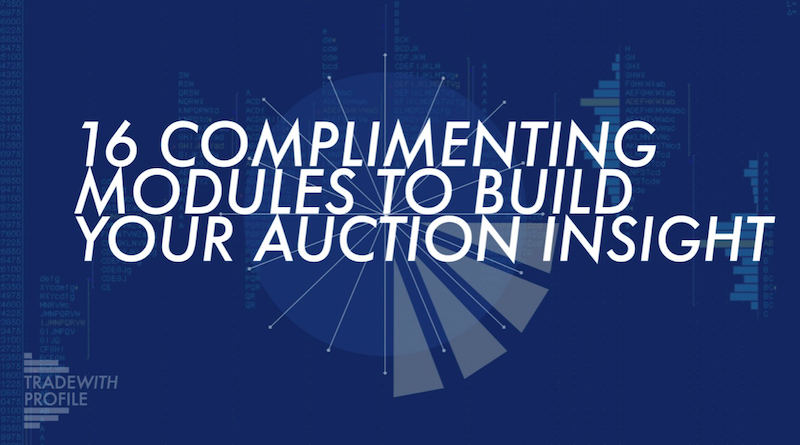 VIDEO ON DEMAND
The video on demand pathway provides immediate access to all 16 modules of the curriculum. This is for those who want to go at their own pace. But be careful not to consume too much of the material too fast – rushing through can hinder learning/retention.
1-ON-1 MENTORSHIP
The 1-on-1 pathway is a custom-designed mentorship opportunity directly with Josh Schuler. It's based on the same 16-module curriculum as Video on Demand and Group Study, but includes tailored coaching to satisfy your unique development needs.
Trade With Profile/Profile Trading Development Pathway Student Reviews & Testimonials:
It's one thing to just hear my take on Josh Schuler and Trade With Profile, but there are numerous others who have acquired the know-how and skills to make better trading decisions and capture more profits thanks to the Trade With Profile training program:
I am loving it, my confidence is at an all-time high! Thank you, thank you! – Sandeep, USA
Working with you was the tipping point for me to become profitable. I really think you are changing the "trading education industry" with what you are doing. – Rey, USA
Not to blow smoke up you A$$, I have been in A LOT of rooms over the years. This is without a doubt the best. The education is outstanding and there are no egos. I'll be with you for a while…I have learned so much and most importantly is the patience I have developed through following you. – Rob, USA
I have only been around TWP for a short time but been around trading for 5 years and a little over a year in futures. I've taken a lot of educational courses online with futures trading (including Dalton's intensive) and happy to say TWP has given me the clarity I needed that was cloudy for me in the past. – Dennis, USA
If you have any personal experiences with Trade With Profile, please share them down in the "comments" section below.
Best Trade With Profile Alternatives – Tradacc and Apteros Trading:
The two most similar training/mentorship programs to Trade With Profile are Tradacc and Apteros Trading.
All three of these programs focus on futures trading and teach methodologies rooted in auction market theory. They all utilize profiling tools (market profile & volume profile) to effectively organize and interpret critical market-generated information.
WHAT IS TRADACC?

Tradacc was founded by Aaron Korbs

Tradacc is short for "Trading Accelerator"

Tradacc offers 2 Main Courses/Programs:

WHAT IS APTEROS TRADING?

Apteros Trading was founded by Merritt Black

Merritt was previously Head of Futures at SMB Capital

Apteros offers 2 Main Products/Services:
I honestly recommend any one of these training programs for individuals who want to turn their passion for trading into a profitable endeavor. But Trade With Profile offers the best overall value. Similar levels of training from the others is 2-3X the price.
All 3 of these trading mentors focus on legitimate skill and edge development so that their students can become self-sufficient.
Conclusion – Does Trade With Profile Offer the Best Futures Trading Training Program?
As self-directed, electronic traders – we have to rely entirely on sight in order to make high-quality trading decisions.
So what volume profile and market profile allow us to do is organize a massive amount of market-generated data/information into powerful distribution graphics – and these graphics reveal clues/nuances that standard bar and candlestick charts simply don't.
Profiling provides insight into what's going on beyond price – like how much time is being spent and how much volume is being done at certain prices. Duration (time) and participation (volume) are extremely telling in terms of what prices are being accepted/rejected.
Solely viewing price movement on its own isn't nearly as potent as viewing the elements of price, time, and volume in relation to one another. These 3 components dictate "value" – and as a trader – opportunity exists in the discrepancy between price and value.
Most market participants have a surface-level/one-dimensional view and don't understand the difference between price and value. But the context that understanding value provides is what leads to higher confidence, consistency, and profits for those that do.
From auction framework all the way down to trade execution/management – TWP provides the training for legitimate edge.
Written by Matt Thomas (@MattThomasTP)
Related Pages:
Trade With Profile
$1,250 For Video on Demand Pathway
Curriculum Length

Curriculum Quality

Mentorship & Support

Expectation-Setting/Honesty

Skill-Building/Practical Application

Program Cost
Trade With Profile Review
Trade With Profile stands out within the "trading education" industry because of the significant focus on legitimate skill and edge development. This isn't just some basic education – Trade With Profile offers real training for individuals who want trading to be a significant portion of their income. Most trading courses/programs out there only cover the basics of technical analysis, risk management, trading psychology, etc. But all of this regurgitated information tends to lack depth. There's no true market understanding. This is where Trade With Profile fills a gap for struggling/developing traders. From auction framework, to profiling tools, to playbook setups, all the way down to trade execution & management, Trade With Profile provides the missing piece of the puzzle that many market participants wrongly attribute to their own mindset/psychology → real, in-depth market understanding and edge.