What is Tradacc.com and How is Tradacc Trading For Beginners?
Tradacc (short for Trading Accelerator) is a trading education company founded by Aaron Korbs and Ruben Davoli.
As the head trader and trading coach, Aaron Korbs is essentially the face of Tradacc. He's the one you'll find teaching course lessons, hosting Q&A sessions, performing case studies, walking through real-time trade setups, and much more.

To deeply understand what Aaron Korbs and Tradacc are all about, I highly recommend checking out Korbs YouTube. It offers a ton of great content in regard to futures trading, auction market theory, volume profile, and his overall methodology.
Some of this terminology might not mean much to you right now (like futures, auction theory, profiling, etc.), but I firmly believe that futures are superior trading products and auction theory/profiling are the building blocks for generating robust market edge.
There are so many trading courses, programs, and services on the internet that regurgitate all the same information – as if blindly following this or that indicator will equate to trading success. But it's utter nonsense. Trading just isn't that simple.
Aaron Korbs' trading method is far different (and in my opinion, far better) – because it's a discretionary approach based on real-time market generated information. It cuts out the noise of lagging indicators and displays the truth behind market behavior.
2 Main Tradacc Courses – Volume Profile Formula & Profile Method:
Tradacc offers a handful of educational courses/products, but the 2 main ones are Volume Profile Formula & Profile Method.
1.

VOLUME PROFILE FORMULA

– 

WHAT IS VOLUME PROFILE FORMULA?
Volume Profile Formula is a low-cost starter course that covers the basics of Aaron Korbs' volume profile methodology.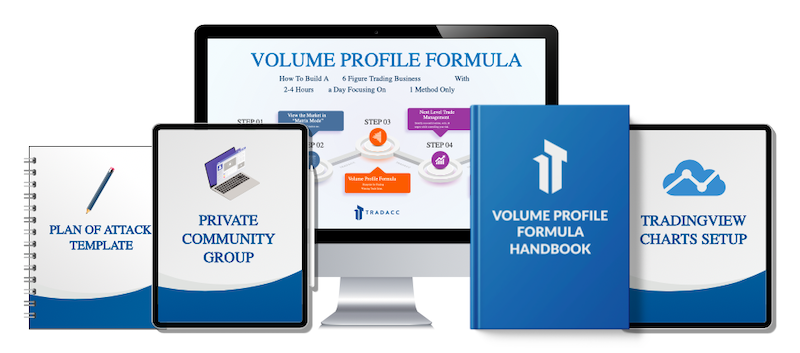 The primary portion of the course is a 3+ hour masterclass broken down into 5 topics: 1) The 6-Figure Volume Profile Strategy, 2) View the Market in Matrix Mode, 3) Volume Profile Formula, 4) Next Level Trade Management, and 5) The 6-Figure Trader Mindset.
In addition to that, the course comes with a few bonuses: Plan of Attack Template, TradingView Charts Setup Cheatsheet, and Private Facebook Community Access. There are also videos covering specific intraday volume profile structures and trade reviews as well.
Overall, the Volume Profile Formula course is a general overview of Aaron Korbs specialized method – if that makes sense. It highlights the power of using volume profile from a high-level perspective. but it doesn't dig too deep into all the nuances.
It's basically like a trial or sneak-peak into the next-level training/mentorship program we're talking about next – Profile Method.
2.

PROFILE METHOD

– 

WHAT IS PROFILE METHOD?
Profile Method is Tradacc's advanced training/mentorship program for individuals who are fully committed to developing the competence, skill, and experience necessary to make trading a substantial part of their income (or possibly even trade for a living).
In my opinion, this program can go toe-to-toe with any of the top trading education/training/mentorship programs available online – including the Profile Pathway offered by Josh Schuler at Trade With Profile and NADRO offered by Merritt Black at Apteros Trading.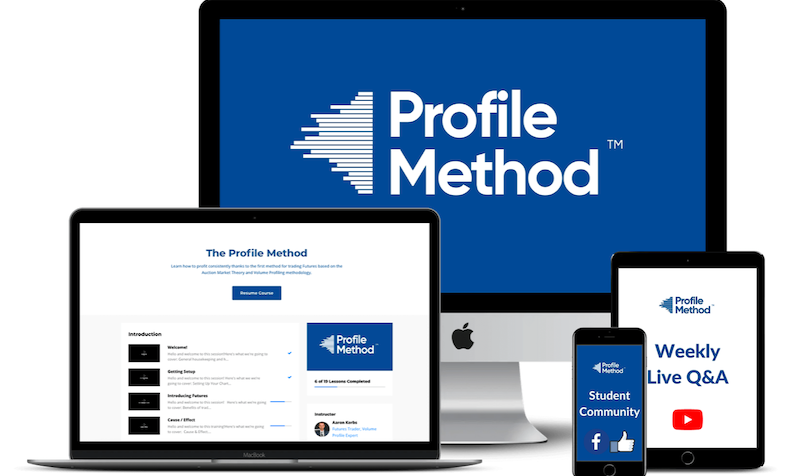 Not only is Aaron Korbs' Profile Method a reliable way to get consistent results in the market because it's rooted in auction theory, profiling, and futures – but also because he's in the trenches with students every single day practicing what he preaches.
Here are Some of the Main Features of the Program:
20+ On-Demand Video Lessons

20+ Assessments to Go Along With Those Lessons

4X Weekly Live Trading Sessions (Mon-Thurs) – Also Known as Trading Live Experience

2X Weekly Q&A Coaching Calls (Tues & Fri)

1X Weekly Premarket Prep Workshop

Exclusive Student Community Chat Room

Aaron Korbs' Personal Chart Setup on Sierra Chart & NinjaTrader8
This isn't just some basic, cheap course (like the Volume Profile Formula is, for example) – this is real, interactive training with tons of ongoing mentorship and support. This is the type of program that massively reduces the typical learning curve.
Overall, the Profile Method combines potent, specialized knowledge with live market immersion and expert feedback.
Tradacc Reviews and Testimonials From Volume Profile Formula & Profile Method Students:
This site is full of my own personal thoughts and opinions on various trading courses/programs/services. But I think it's important to hear from numerous others as well in order to establish a comprehensive perspective on what Tradacc has to offer.
I came across Tradacc and experienced their courses having already been exposed to auction market theory and profiling tools – and I've still received so much incredible information and value out of them that I've never experienced anywhere else.
In my opinion, the Profile Method is the gold standard in futures trading education/mentorship. But don't just take it from me – hear it from hundreds of other Tradacc students as well. It's fairly clear how the vast majority of students feel:
"I'm grateful to have joined Tradacc".
"Affordable price and unmatched value delivered".
"I'm now a full-time trader thanks to Korbs".
"Joining the program has been a huge advantage for me".
"Concepts are explained clearly and can be successfully applied in the market".
"The Profile Method has provided me with a lot of confidence in my behavior".
This type of training and mentorship is truly a game-changer for individuals who are serious about achieving long-term, sustainable market success. Programs like Profile Method are exactly what most developing traders need in order to succeed.
In my opinion, Tradacc offers the missing pieces to the puzzle that so many struggling traders ignore or fail to ever find.
Conclusion – Tradacc Can Help 

Transform

 You Into a Specialist With Legitimate Market Edge:
One of the most critical concepts that Tradacc demonstrates with their Volume Profile Formula and Profile Method is the importance of becoming a specialist. Generalists don't get very far. Sustainable market success requires a specialized skill-set.

The generalist approach is a trap that almost all new traders fall into. They learn a little bit about day trading, swing trading, long-term portfolio building, stocks, options, forex, cryptocurrency, etc. But they never get really good at any one single thing.
They're constantly being distracted/sidetracked by the next "shiny object" that pops up – a new indicator to try out or a new system to test – and they're continuously changing the variables of their approach. It's a confusing and ineffective way to trade.
At Tradacc, however, Aaron Korbs preaches specialization – focusing on just one market (futures), one product (ES), and one method (Profile Method). This is how consistent, repeatable results are achieved – not by "dabbling" in a bunch of different things.
Overall, when you know how to properly integrate the Profile Method into your own approach, it truly feels like having an unfair advantage. It's simply one of the most (if not THE most) reliable ways to trade. It just makes sense (and works).
Every developing trader is searching for clarity and consistency – and that's exactly what Tradacc can help you obtain.
Written by Matt Thomas (@MattThomasTP)
Related Pages: