What is Korbs YouTube and Who is Aaron Korbs (Trader/Volume Profile Expert)?
Aaron Korbs is a full-time futures trader and trading coach who specializes in volume profile and order flow analysis.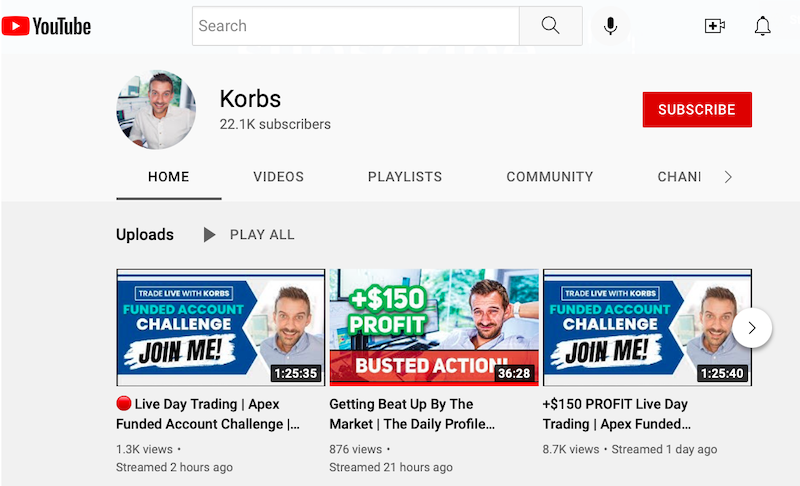 His Korbs YouTube channel currently has over 22,000 subscribers – and it's one that I highly recommend for individuals who want to make intraday futures trading a significant portion of their income or have ambitions of trading for a living.
As someone who has personally experienced almost every form of "trading education" over the past ten years (from lousy alert/signal services all the way up to full-blown training programs), I have to say that what Aaron Korbs teaches is the real deal.
His perspective on futures being superior trading products (as opposed to stocks, options, forex, etc.) and volume profile being an extremely powerful tool for reading market context (as opposed to traditional lagging indicators) very closely aligns with my own.
I honestly wish the Korbs YouTube channel existed back when I first started trading because it could've saved me thousands of dollars and years of time in building a strong foundation based in auction market theory and profiling tools (volume profile & market profile).
The typical retail trader simply doesn't know what they don't know – and they end up going down inferior/ineffective paths.
Benefits of Korbs YouTube – Not Just Education, But Practical Application as Well:
The information that Aaron Korbs shares on his YouTube channel in regard to auction market theory, volume profile, and futures trading is great – don't get me wrong – but solid information is merely a starting point for becoming a successful trader.

Consuming all kinds of theoretical information might make you feel smart, but what really matters (especially while operating within the market environment) is execution. In other words, you have to develop skills to apply the information the right way.
Of course, this is what Aaron Korbs' training courses/programs are for – helping you build a high degree of competence and skill around volume profiling. So that's where you can experience real-life application of his methodology through live trading sessions.
But he often shares these sessions on his YouTube channel as well. In fact, he's put multiple account challenges and case studies on display over the past few years for all to see. This level of transparency isn't easy to find within the trading education industry.
Check Out a Few of His Case Studies/Challenges For Yourself:
There's just so much nonsense on social media these days, especially in relation to trading and investing, that it's extremely difficult to locate gurus/educators/coaches/mentors that aren't spewing toxic garbage just for clicks, likes, and shares.
Korbs YouTube, in my opinion, offers a ton of educational content without getting too carried away with entertainment/distraction.
What is Tradacc.com, The Volume Profile Formula, and The Profile Method?
Aaron Korbs is also the Founder of Tradacc/Tradacc.com (short for "Trading Accelerator") – which houses his 2 main education/training products – Volume Profile Formula (basic introductory course) & Profile Method (advanced training program).
If you find value in the Korbs YouTube channel and feel like his trading approach resonates with you, then I suggest the Volume Profile Formula as a next step. It's only $47 and offers a 30-day money back guarantee – so there's virtually zero risk in checking it out.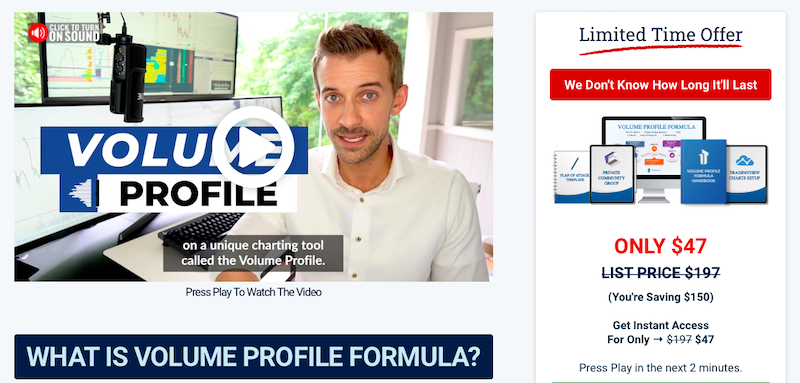 But keep in mind that this is only an introductory course that covers the basics of Aaron Korbs' volume profile methodology. If you're looking for advanced training with daily live trading sessions covering all the nuances – that's what the Profile Method is for.
As solid as the Korbs YouTube channel is, please don't expect the information shared in those videos alone to automatically make you a consistently profitable, six-figure trader. There's a lot of complexities missing that can only be acquired through the courses.
Far too many traders make the mistake of thinking that learning the basics is enough. But just like any other craft, you have to develop a high degree of competence and skill around profiling through practice and experience. There's no avoiding the work/effort.
Overall, everything Aaron Korbs teaches revolves around his students becoming real/skilled/self-sufficient traders.
Written by Matt Thomas (@MattThomasTP)
Related Pages: