What is Volume Profile Formula & Profile Method Created By Aaron Korbs?
Volume Profile Formula is an introductory course created by Aaron Korbs at Tradacc.com (short for Trading Accelerator).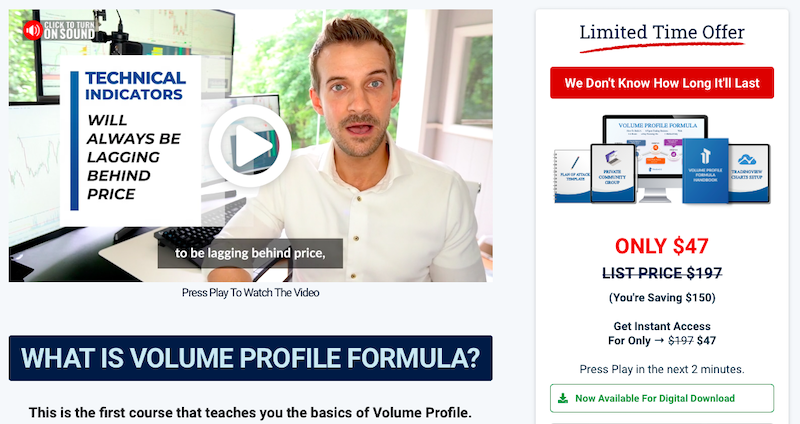 The main portion of the course is a 3+ hour masterclass outlining Aaron Korbs' volume profile trading methodology. There are additional videos and resources that go along with it, but they don't dive too deep into the nuances/specifics.
It's more of a general overview on the power of volume profile and how Aaron Korbs uses it to generate $10,000 to $15,000 per month on average trading less than 4 hours per day using one proven method. It's essentially a low-cost primer for Profile Method.
Profile Method is Aaron Korbs' advanced training and mentorship program, which truly leaves no stone unturned. It's not a $47 teaser course like Volume Profile Formula. It's 100% legitimate training for individuals who are serious about their success.
I'm not saying that Volume Profile Formula is bad or a scam – because it's not. It's extremely affordable and serves as a nice introduction to Aaron Korbs' robust methodology. But make no mistake – it's not an in-depth, comprehensive course.
To use an analogy, Volume Profile Formula is the trailer and Profile Method is the Academy Award-winning movie.
Volume Profile Formula Review – What is Volume Profile Formula (Intro Course)?
As we've already touched upon, Volume Profile Formula is an introductory course that covers Aaron Korbs' volume profile methodology from a high-level perspective.
The 3+ hour masterclass is broken down into 5 main categories:
The 6-Figure Volume Profile Strategy

View the Market in Matrix Mode

Volume Profile Formula

Next Level Trade Management

The 6-Figure Trader Mindset
In addition to the 3-hour masterclass, there are also a number of bonuses that come along with it – including a TradingView charts setup tutorial and cheatsheet, plan of attack template, private community access, and multiple trade reviews/case studies.
It's meant to give you a taste of how powerful the volume profile methodology can be at an extremely low cost (only $47). Even if you purchase it and decide it's not right for you, there's very limited risk involved – making it an ideal starting point.
It's basically like a trial opportunity for individuals who aren't quite ready to dive straight into the Profile Method – the advanced training and mentorship program we'll be talking about next (because the cost of that particular program is far greater).
Profile Method Review – What is Profile Method (Advanced Training/Mentorship)?
Profile Method is Aaron Korbs' full-blown training and mentorship program. It's an exclusive group of dedicated students who are committed to building a high degree of competency and skill around Korbs' complete volume profile methodology.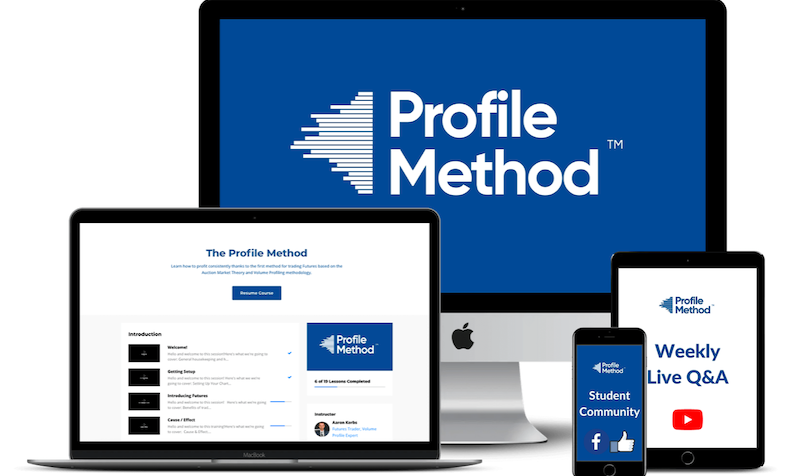 This is where the result of making $400-$500 per day on average and building a six-figure trading business is truly possible. It's not going to happen by watching some free videos or going through a cheap course; it will only happen by building legitimate skills.
Profile Method contains video lessons covering 20+ hours of specialized education (which are incredibly important). But the real value of the program, in my opinion, comes from the live trading sessions (Mon-Thurs) and bi-weekly Q&A's (Tues & Fri).
This is your opportunity to ask questions and get feedback directly from Aaron Korbs – and ultimately turn the theoretical knowledge learned within the video lessons into real, functional skills. It's all about proper application/execution.
Aaron Korbs isn't just force-feeding you information through a course and then leaving you high and dry. He's there to personally support your development on an ongoing basis. This is what authentic training and mentorship is all about.
High-quality education followed by live interaction/immersion followed by expert feedback is the recipe for meaningful growth.
What is Korbs YouTube – Best Free Resource to Get Started Learning From Aaron Korbs:
If you're on the fence about joining the Profile Method program – or even the low-cost Volume Profile Formula introductory course – then I highly suggest checking out Korbs YouTube. It provides a solid "inside look" at what Aaron Korbs is all about.
At no cost, you can watch numerous educational videos, follow his live trading challenges, and even directly ask him questions during his Daily Profile Show. In my opinion, Korbs YouTube is one of the best, most active channels in the futures trading industry.
But please don't just watch his free YouTube content and expect it to automatically turn you into a consistently profitable trader. There are a lot of nuances/complexities that can only be properly integrated through live immersion and training.
The masses tend to think that trading success is the result of finding some magical mathematical formula – a fixed "buy here, sell here" system that will work consistently for all eternity. But ignorant thoughts like this fly in the face of true market characteristics.
Since markets are open, dynamic, and infinite systems – trading success requires creativity and adaptation. If unable to appropriately analyze context in order to implement the right strategies at the right times, you're doomed for subpar results/failure.
Understanding market posture and what's likely to happen next based on context requires legitimate competence and skill.
Final Thoughts on Volume Profile Formula & Profile Method – Are They Worth it?
In my opinion, the way Aaron Korbs views markets is simply a more reliable way to get consistent, sustainable trading results. So what he teaches within his Volume Profile Formula intro course and Profile Method advanced mentorship program are absolutely worth it.
The sad reality is that most market participants have never even heard of auction market theory and don't know that tools like volume profile and market profile exist. And even if they do, they don't know how to turn them into something actionable/effective.

This probably has a lot to do with the fact that the trading industry as a whole isn't set up for you to succeed. It's set up for you to merely spin your wheels for as long as possible. It's all about getting you involved without real education and training.
Brokers and trading platforms will happily provide you with hundreds of charting indicators/studies to make you feel like you know what you're doing. But most of these so-called features aren't really benefits – they're just distractions.
Aaron Korbs' volume profile methodology, on the other hand, actually makes sense on a logical level. It displays the real-time behavior of market participants at specific prices. You can literally see the market show its hand and then make high-quality trade decisions.
Overall, the average market participant trades blind. Profile Method, however, trains students to develop real market vision.
Written by Matt Thomas (@MattThomasTP)
Related Pages: