---
The Ultimate Topstep Trader Review – Do You Have What it Takes to Get Funded?
Topstep Trader is a platform that allows individuals all throughout the world to test their trading abilities and potentially earn a funded account. For traders who lack the financial means to fund an account for themselves, Topstep presents an incredible opportunity.
For the average person who chooses to pursue trading on the side or full-time – not only does it take months or years to save up $25,000 or more just to have a realistic shot at meaningful gains, but then they also have their own hard-earned money at stake.

With a program like Topstep, this difficult, time-consuming, and risky process of saving up for your own deposit and then risking your own capital is unnecessary. If you can prove your skills in a simulated environment, then Topstep will fund an account for you.
This privilege of having a funded account does come with some trade-offs though. Topstep isn't handing out $50-$150K trading accounts just for fun. The catch is that you have to follow their risk management rules, and they also keep a portion of your profits.
Below we'll dive deeply into the evaluation process for earning a funded Topstep account, the markets and products available to trade, the pros and cons of joining, if the program is a scam or not, reviews and testimonials from real users, and much more.
What is the Topstep Trader Combine – Prove Yourself and Earn a $50K-$150K Account:
The Topstep Trader Combine is an opportunity to prove that you can consistently grow an account while simultaneously managing risk.
It's a simple concept when filtered down into one sentence. But that doesn't mean it's easy to accomplish. Many individuals have tried to pass the Topstep Trader Combine and ultimately failed by breaking one or more of the non-negotiable risk management rules.

The good news is that you can try as many times as you want and for as long as you want – but that comes with a cost. Taking part in the TopStep Futures Combine costs $165-375 per month depending on the account size you're shooting for ($50K, $100K, or $150K).
If you break a rule during the tryout process – you lose access to the account. But for those who want to gain access back prior to the next billing cycle, it's possible to pay a $59-99 reset fee and keep trying. The rules are in place for a reason – disciplined trading.
So if you go into the Combine unprepared, the fees can add up pretty quickly. These small costs, however, are really nothing compared to the incredible financial damage undisciplined traders tend to do to their own trading accounts in live market environments.
How to Pass the Topstep Trader Combine – Major Topstep Trader Rules to Follow:
Passing the Topstep Trader Combine is a 2-step process. The first step requires you to grow a simulated account 6% from your starting balance while following various rules. The second step is to do the same thing again with even tighter risk parameters.
These measures are in place in order for you to: 1) Prove Profitability, and 2) Show You Can Manage Risk.
For the sake of example, the targets and risk parameters discussed below apply to the most popular $50,000 Futures Account.
STEP 1:

PROVE PROFITABILITY
TARGETS
PROFIT TARGET → $3,000 (which is 6% of starting account value)

Minimum of 5 days of trading activity required to pass

At least 50% of winning trades must be held for 20 seconds or more
RISK MANAGEMENT RULES
MAXIMUM POSITION SIZE → 5 contracts

DAILY LOSS LIMIT → $1,000

TRAILING MAXIMUM DRAWDOWN → $2,000

Only able to trade permitted products at permitted times
Once Step 1 is accomplished, your account is reset to $50,000 and you're eligible for Step 2.
STEP 2:

MANAGE RISK
You still have to manage risk in Step 1, but additional parameters come into play for Step 2. The profit target stays the same, but there are a few more risk management rules to contend with. The good news, however, is that there is no minimum trading activity required.
ADDITIONAL RISK MANAGEMENT RULES
WEEKLY LOSS LIMIT → $1,000 (which is the same as the daily loss limit)

Do not hold positions 1 minute before or after major economic releases

Follow the scaling plan – max position size increases based on account growth
Once Step 2 is accomplished, you earn a funded account. But keep in mind that these rules don't magically go away after completion of the Combine. Your new funded account will basically have the same set of risk parameters to follow.
For the most updated Topstep Trader Combine and Funded Account steps, rules, and FAQs, you can visit the Help Center.
Funding Opportunities – What is Topstep Futures and Topstep Forex?
Topstep Futures provides you with an opportunity to earn a funded account trading popular CME group products such as E-mini S&P 500, E-mini Nasdaq 100, E-mini Russell 2000, Crude Oil, Natural Gas, Corn, Wheat, Soybeans, Gold, Silver, Copper, and more.
An incredible aspect of the Futures program is that it currently integrates with 14 different trading platforms depending on your preference. So if you're most comfortable trading on NinjaTrader, TradeStation, or TradingView, among many others – you can do it.

Topstep also offers their own trading platform called TSTrader (powered by Tradovate) that has no platform fees and works on any device. This is the platform available for the 14-day free trial where you have the opportunity to test a $150,000 simulated account.
Topstep Forex provides you with an opportunity to earn a funded account trading popular currency pairs such as EUR/USD, USD/JPY, GBP/USD, USD/CHF, NSD/USD, USD/CAD, and many more. Topstep Forex requires connection to the MetaTrader4 platform.
Forex is the world's largest financial market open around the clock from Sunday evening to Friday evening (US/Eastern time).
**Topstep no longer offers Forex as of April, 2022. Topstep's entire focus is now on Futures.**
Topstep Trader Pros and Cons List – Main Advantages and Disadvantages:
If I had to choose one section of this review for everybody to read at the expense of all others, the pros and cons list would be it.
In general, I think the pros of Topstep far outweigh the cons, but that doesn't mean that it's perfect. There are certainly some advantages that can't be ignored – free trials, discounts, built-in risk parameters, professional support, and an easy withdrawal process.
TOPSTEP TRADER PROS

TOPSTEP TRADER CONS

Free 14-Day Trial to Test Futures Platform
20% Discount on First Month of Trading Combine

Risk Parameters in Place For Disciplined Trading

Represented By Thousands of Traders From 100+ Countries

Fairly Easy and Quick Account Withdrawal Process

Over $2M in Withdrawals For Each of Last Two Years

Private and Group Coaching From Professional Traders

Over 7,500 Community Members on Facebook

Various Resources For Support (Blog, Podcast, Videos, etc.)

90/10 Split After First $5,000 in Profits

Combine and Account Resets Cost Money

No Structured Course or Learning Program Offered
But some of the cons are definitely worth nothing – and one in particular stands out to me. But first I want to mention the costs associated with the Combine and potential resets, as well as the profit split once you earn a funded account and start making money.
The only reason I list these as cons is because there are costs associated with them, but I personally think they're completely fair. Tryout fees and profit splits are to be expected with any funded trader programs – and these stipulations certainly aren't terrible.
But where I think Topstep can improve the most is by creating a well-structured, comprehensive trading course. Don't get me wrong, the educational resources like blog posts, podcast episodes, and ebooks are great. But they can't replace a structured curriculum.
Much of what Topstep offers in terms of support and guidance concentrates on risk management and trading psychology (which is amazing by the way – I fully support it). But what's missing for inexperienced traders is detailed personal strategy development.
I understand that offering such a course or program would take a lot of work. Admittedly, there are so many different approaches to trading that no program could ever be 100% comprehensive. But I think offering a structured course would be highly beneficial.
Is Topstep Trader a Scam – Top 2 Topstep Trader Complaints:
As with any product or service (trading-related or not), there will always be at least a couple complaints and scam allegations. Naysayers exist in every industry and endeavor. So below I want to discuss the top 2 complaints I've heard in relation to Topstep.
1.

 90/10 Profit Split – You Keep 90% of Your Profits and Topstep Gets 10%
For individuals who call Topstep a scam just because there's a profit split are completely delusional. They're providing you with a $50-$150K account, so of course they're going to keep a fair share of the profits. They're literally taking on all the downside risk.
90/10 is also one of the highest profit splits you'll find being offered by any funded trader program – especially from a well-established one like Topstep. They're an undeniable leader in the funded trader industry and have been around for over a decade.

If you're expecting a higher profit split, then you can shop around for other funded trader programs available online. That's completely up to you to decide for yourself. But nobody should expect a split where the firm keeps only 0-5% of your profits.
If you find a funded trader program that does this, I would actually be quite concerned about it. Taking on the risk of giving you a multi-thousand dollar account without keeping any profits would be a huge red flag. It would be way too good to be true.
If they can afford to do this, it would most likely be a sign that they're making money off you in some other deceitful way.
2.

Fees Associated With the Topstep Trader Combine – Monthly Fee Plus Account Resets
There are reasons for these fees that I completely agree with. First, the monthly Combine cost confirms you have some skin in the game. It weeds out the hobbyists who aren't serious about success. Second, the reset fees make you respect risk management.
When traders go it alone with their own trading accounts and fail to implement proper risk management practices, the end result is often much worse than a $99 reset fee. This is a light slap on the hand in comparison to a thousand-dollar account blowup.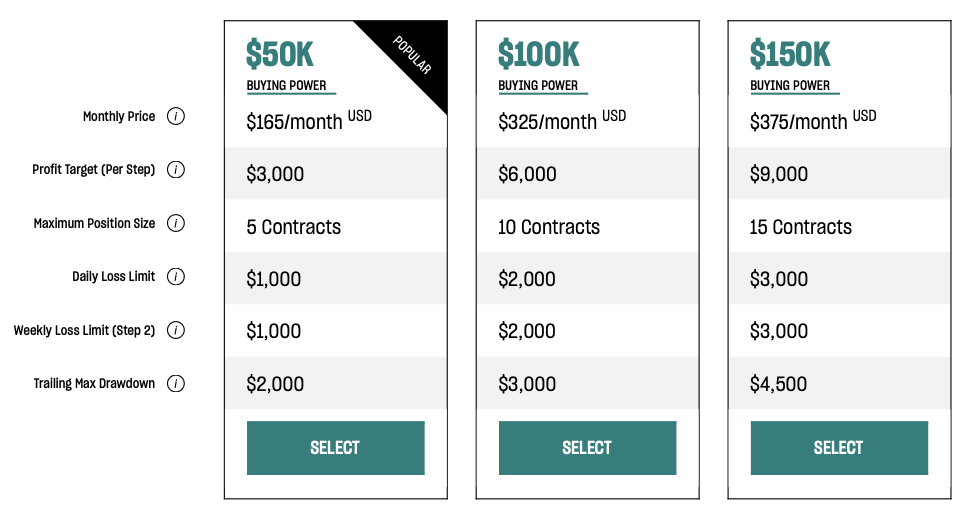 In all seriousness, if you're worried about passing the Combine and paying account reset fees, then you're most likely not prepared to handle a funded account. Those with confidence in their trading abilities simply aren't concerned about these costs.
A prepared trader with legitimate skills and an understanding of the rules should take no longer than a few months to pass without incurring a single reset fee. Keep in mind that passing the Combine is just the start. Think long-term and prepare yourself.
Passing the Combine means nothing if you can't repeat that success with a funded account. It's possible to get a bit lucky during the Combine and earn a funded account, but lack of skills and risk management will eventually get your funded account taken away.
So practice until you're truly ready. There's no rush. Topstep will still be there when you're ready to prove yourself.
Topstep Reviews and Testimonials From Real Topstep Traders:
Trading with Topstep has been a wonderful experience. I have learned so much about my strengths and weaknesses trading the combines. I'm looking so forward to a long career relationship with Topstep. – William
---
Topstep is a blessing for aspiring professionals. Having the opportunity to prove your abilities, then getting rewarded with an account eliminates your personal liability of one day, potentially, losing everything. Not having this on my mind has helped me trade freely and treat my trading as a business; a professional. – Jeronimo
---
I really like Topstep. It is allowing me to work toward becoming a successful, full-time day trader without having to risk my own money!! Amazing!! Some may not like the strict rules but in all honesty the rules help you become the best trader possible, and people have to understand that at the end of the day, they are a business who want to make profits so they have to set these rules in place. With all that being said I'm extremely grateful for the service that they offer. – Nigel
---
Topstep is a great opportunity for new and experienced traders alike. The structure and discipline are important and helpful to anyone looking to improve their trading skills. The risk controls in place can help one to avoid taking unnecessary large losses with their own capital. More importantly, for less than a few hundred dollars a fledgling trader can earn several multiples of their investment in risk capital with a proven methodology. – Scott
---
The rules are strict and rightfully so – I've had several false starts, but a reset is considerably cheaper than blowing my own account, and acts as a welcome slap round the face…A little surprised to see people whining about it not being fair to have a reset when they break a rule…if you were trading live, no one would be there to help you. – Julian
Who is Topstep Trader Best For – Beginners, Veterans, or Traders of All Kinds?
Topstep can be a phenomenal launching pad for individuals at the start of their trading journey. But not absolute beginners.
Since Topstep doesn't offer a comprehensive course with a strong focus on individual strategy development, I think developing traders need to look elsewhere for that first. My personal recommendation would be Trade With Profile with Josh Schuler.
With that foundation of trading education, skill-building, and personal strategy development in place, that's when Topstep becomes a phenomenal opportunity for individuals who otherwise wouldn't have the financial means to trade at a serious level.
Even individuals who have the means, but don't have the desire to risk tens of thousands of dollars of their own money, can find value in Topstep. With the firm's capital and rules, you have the guardrails in place to trade safer and ultimately profit without risk.
Psychologically, trading without fear of personal financial loss and having specific risk management guidelines in place can be extremely beneficial. These structured, stress-reducing conditions help create balanced, consistent, and overall profitable traders.
After several years of success with Topstep, however, I can understand why funded traders might choose to go off on their own. They've probably wired good trading habits, saved up to fund their own account, and might prefer to avoid any sort of profit split.
Overall, I think Topstep is best for beginners looking to professionalize their trading operations, but traders at all levels can benefit.
Conclusion – Is Becoming a Funded Topstep Trader Worth the Time, Effort, and Cost?
If you're serious about becoming a professional-level trader, I think Topstep is definitely worth the time, effort, and cost.
In comparison to the costs most people incur by diving headfirst into live markets completely unprepared, the monthly fee for the Topstep Trader Combine is nothing. I personally lost thousands of dollars of my own money trading ignorantly and impulsively at the beginning of my own journey – which isn't a rare occurrence amongst new traders. But this could easily be avoided.
Through a program like Topstep, you learn how to manage risk like a professional trader. Sadly, most individuals who decide to trade on their own simply don't have the self-control to properly manage risk. They take giant position sizes trying to nail big wins and remove stops to avoid being wrong, among many other dangerous decisions. These habits typically result in account blowups.
There are reasons the trading success rate is so low – and that has a lot to do with inadequate trading psychology and risk management. I think Topstep does a great job of filling gaps in these two specific areas with professional coaching and support.
Overall, Topstep is a great place for traders to get funded and continuously develop at the beginning of their trading careers.
Written by Matt Thomas (@MattThomasTP)
Related Pages:
Topstep Trader
Topstep Combine $125 - $375 Per Month
Transparency

Profit Split

Costs and Fees

Community

Coaching and Support

Personal Strategy Development
Topstep Trader Review
The Topstep Trader program offers an incredible opportunity for Futures traders to earn $50,000-$150,000 funded accounts. Saving up enough money to trade at a level that can actually produce meaningful gains ($25,000-$100,000+) is a high threshold to overcome. Even individuals with great talent and strong trading skills might not have the financial means to commit that large of a sum to a trading account. But with Topstep, if you can prove profitability and show you can manage risk in their 2-step Trading Combine, they'll fund an account for you. Overall, Topstep provides a great opportunity to gain real-world market experience essentially risk-free and potentially earn a multi-thousand dollar funded trading account.