---
What is Topstep Futures – Earn a $50,000 to $150,000 Trading Account:
Topstep Futures is an opportunity for individuals to get funded with $50,000 to $150,000 futures trading accounts if they can prove two specific things: 1) that they can capture profits in the market and 2) properly manage risk – the latter being most important.
It's fairly easy to take an entire $50,000 simulated account, put it all into one leveraged position, and double, triple, or quadruple your account value within a day or so. But it's also fairly easy to drive your account straight into the ground by doing the same thing.
This type of trading (if we can even call it that – it's actually just gambling) is unfortunately how most newbies approach the markets – even with real money. It might not be as drastic as the example, but beginners are prone to taking on ridiculous amounts of risk.
A program like Topstep, however, was created not only to fund traders but help them build better trading habits as well. By doing so, both parties win out – you become a better trader with access to a large account and then share in the profits with Topstep.
Topstep Futures is open to individuals worldwide over the age of eighteen (with some exceptions based on location). They currently have thousands of funded traders from over 140 countries. This year alone they've paid out nearly $3,000,000 in withdrawals.
What is Topstep Forex – Another Opportunity to Earn a Funded Trading Account:
In addition to Topstep Futures, which revolves around trading popular CME products such as E-mini S&P 500, E-mini Nasdaq 100, E-mini Russell 2000, Natural Gas, Crude Oil, Gold, Silver, Copper, Corn, Wheat, and more – there's also Topstep Forex.
Forex is the world's largest financial market and is essentially open 24/7. Topstep Forex allows individuals interested in that market to trade popular currency pairs such as EUR/USD, USD/JPY, GBP/USD, USD/CHF, NSD/USD, USD/CAD, and many more.
So whether you prefer Futures or Forex – you can choose the type of market that best suites you. I personally prefer Futures much more than Forex for a number of reasons, but everyone has their own preferences. The choice is entirely up to you.
With Topstep Futures, you can set up an account with Topstep through numerous trading platforms – NinjaTrader, TradeStation, and TradingView, just to name a few. But with Topstep Forex, you're limited to just one option – MetaTrader4.
Generally speaking, when I talk about Topstep, I'm typically referring to the Topstep Futures program. Below as I discuss the Topstep Trader Combine as well as a free trial opportunity, those will both be in reference to the Topstep Futures program.
What is the Topstep Trader Combine – Rules For Trying Out and Getting Funded:
The Topstep Trader Combine is just a fancy name for the tryout process. Just like how college football prospects go to the NFL Combine to showcase their athleticism for coaches and scouts, the Topstep Trader Combine is your opportunity to prove you can trade.
But unlike the subjectivity that can be involved with ranking numerous athletes, the Topstep Trader Combine is a completely objective test. As long as you're over the age of 18, live an an eligible country, and pass the 2-step test – you get funded.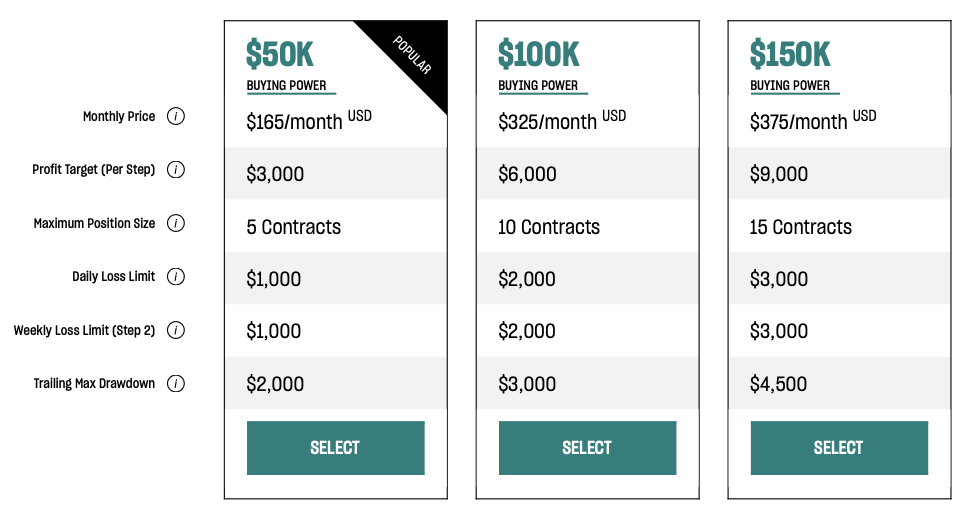 The test takes place within a simulated account, so there's no real money on the line – except for a reasonable Combine fee of $165 to $375 per month. After all, there should be something on the line in order to weed out individuals who aren't serious enough.
Develop the Trading Skills to Pass the Topstep Futures Combine With Top-Rated Training →

Trade With Profile
The Combine fee changes depending on the account size you're aiming to get funded with. For example, the $50,000 account is $165 per month, the $100,000 account is $325 per month, and the $150,000 account is $375 per month. The fee goes away once you pass.
The profit targets, maximum position size, and risk management rules also vary depending on the account size chosen. For instance, the $50,000 account has a $3,000 profit target, 5 contract maximum position size, and $1,000 daily loss limit.
No matter the account size, these profit targets and loss limits are all based on certain percentages of the starting account value. For example, the profit target is 6% and the daily loss limit is 2%. See image above for additional details.
Is Topstep Trader a Scam – The Most Common Complaint From Users:
As great of an opportunity as Topstep provides for individuals to earn five and six-figure accounts to trade with, there are still people who complain about various aspects of it. Some even go as far as to call Topstep a scam, which I think is utterly ridiculous.
The majority of Topstep complaints I hear are in relation to the Combine. For the most part, I think these complaints come from individuals who are struggling to pass, so they let out their internal frustrations by complaining about the costs and rules.

What's important to understand is that the Combine isn't meant to be easy. Topstep isn't interested in funding ineffective traders. They want traders who can steadily produce profits, properly manage risk, and follow all of the necessary rules.
In my opinion, the Combine costs are extremely reasonable – especially considering the alternative of risking your own capital. In comparison to quickly blowing up a multi-thousand dollar personal trading account, a few hundred dollars per month is nothing.
But if the Combine fee is still a problem, there are certainly ways to simulate it on other platforms for a fraction of the price. You can use TradingSim, for example, which costs $50 per month or $300 per year. Then just make sure you follow all Topstep's rules.
By doing this, you can essentially practice for up to a full year with TradingSim for less than the monthly cost of the $100,000 or $150,000 Futures Combines. This way, you only incur the Combine costs for a month or two when you're confident you'll pass.
Topstep Futures Free Trial – See How Topstep Futures Works For Free:
For those who are interested in Topstep Futures, or even still skeptical (which is completely fine) – and want to get a better feel for how it all works, they do offer a no-obligation 14-day free trial. No credit cards required – just your name and email address.
This 14-day trial gives you access to the Topstep dashboard (which tracks your overall equity curve, various trading statistics, and more) and the TSTrader platform powered by Tradovate (which allows you to test your skills with a $150,000 simulated account).

If nothing else, this free trial can be used as two weeks worth of demo trading in order to sharpen your strategies and skills. These types of free practice and training opportunities aren't always easy to come by, so it's something that I personally took advantage of.
Overall, it's clear that Topstep provides an incredible opportunity that can greatly reduce your personal financial risk when it comes to trading, Through free trials, low-cost tryouts, and then trading firm capital – there's tons of upside potential and barely any downside.
For a low-cost, safe way to earn a multi-thousand dollar account, Topstep is a great platform to professionalize your trading operations.
Check Out My Free Trading Success Framework Course
Written by Matt Thomas (@MattThomasTP)
Related Pages: