Is Tradacc a Scam or Legit – My Personal Perspective as a Student:
Tradacc is a trading education, training, and mentorship platform founded by professional futures trader, Aaron Korbs.

I've personally been following Aaron Korbs for years now through his YouTube channel (I've probably watched 90%+ of his videos) and been through every Tradacc course that he's created – from Volume Profile Formula all the way through Profile Method.

If you're not all that familiar with Tradacc, those are their 2 main courses/programs. Volume Profile Formula is merely a low-cost, intro-level course. Profile Method, on the other hand, is top-tier training & mentorship for serious developing traders.
Since Volume Profile Formula is so cost-friendly (often sold for $50 or less), thousands of individuals have been through it. As a result, the vast majority of Tradacc reviews are centered around the Volume Profile Formula course specifically.
But in my opinion, the Volume Profile Formula course by itself is an extremely shallow view of Tradacc as a whole. It's not much more than a preface/introduction. So negative Tradacc reviews based on this course alone tend to be wildly misguided.
So my goal here is to share a much more comprehensive review based on the full extent of what Tradacc has to offer.
Top 2 Tradacc Complaints (Typically From Outsiders & VPF-Only Students):
Let's start with the complaints. Generally speaking, most Tradacc student reviews are positive. But the negative ones often come from individuals who aren't even Tradacc students or have only been through the Volume Profile Formula intro course.
1.

Volume Profile Formula is "Sales-y"
I must admit: when I first came across the Volume Profile Formula sales page, my initial reaction was "scam".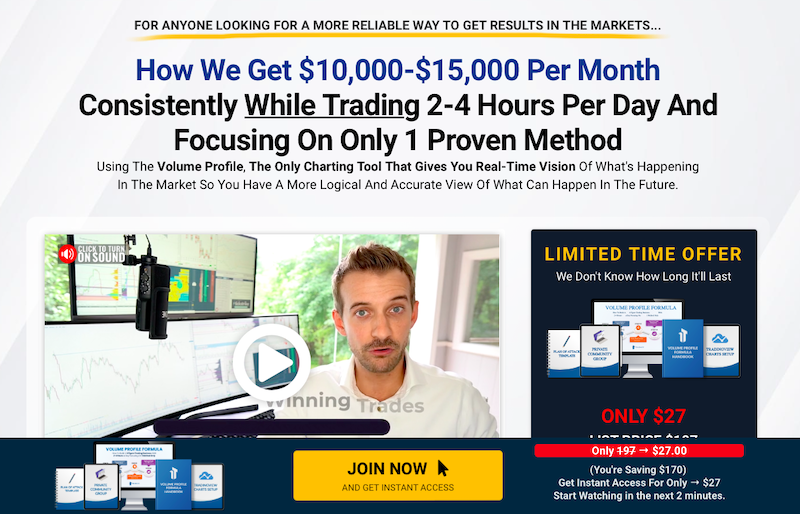 It was just so reminiscent of sketchy trading-related course/program/service pages that I've seen in the past. It turned me off to it so badly that I almost never gave it a chance. But Aaron Korbs' YouTube channel convinced me to give it a try.
I'm not saying that Aaron Korbs himself specifically talked me into it or anything. But he earned my trust by providing free high-quality video content on his channel covering futures, auction market theory, profiling, and more.
So I eventually just gave the Volume Profile Formula course a shot despite my initial perceptions of the sales page. And I'm glad that I did because it directed me down an extremely powerful path toward his full-blown Profile Method program.
Volume Profile Formula isn't some out-of-this-world piece of trading education, so I understand why some students might complain if that's what they're expecting. But for a $50 intro course with a 30-day money back guarantee, there's virtually no risk.
2.

Upsells to Additional Courses/Programs
Another popular complaint is that Tradacc is full of upsells to additional courses/programs.
This upsell complaint is twofold. First, when buying Volume Profile Formula, there are several options to purchase supporting courses/resources – VPF Handbook, S&P 500 Secrets, Futures Masterclass, Next-Level Risk Management, and more.

These are all relatively cheap add-ons for building a stronger foundation – and I personally think that they're extremely valuable for beginners. But some feel bombarded/blind-sided by all these additional learning materials.
Then the second part of the upsell – according to those who complain about it – is the Profile Method program. This advanced training & mentorship program is the prime piece of trading education that every lower-level Tradacc course leads up to.
I don't personally take issue with any of these so-called upsells because they're optional, come with a 30-day refund policy, and for the Profile Method program specifically – Tradacc goes to great lengths to make sure students are a good fit before joining.
Top 2 Reasons Why Tradacc is Legit (and Korbs is One of My Top Trading Mentors):
With an understanding of the top 2 complaints, let's dive into the "compliments" – or reasons why I (and many other Tradacc students) believe that Aaron Korbs is a top-level source for trading education, training, and mentorship.
1.

Aaron Korbs is Fully Transparent
One of the main components of the Profile Method program is known as the Trading Live Experience – which includes live trading sessions with Korbs 3 days per week via Zoom. He also holds at least 1 prep session per week.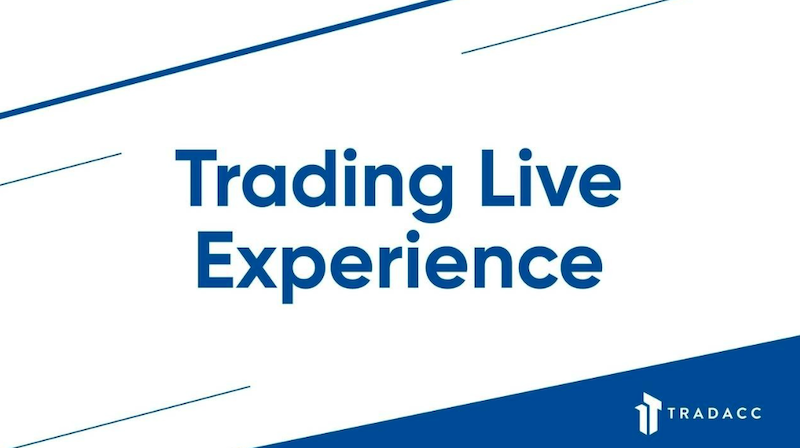 In addition to that, he holds 2 Q&A coaching calls per week. All of this, by the way, is recorded for those who can't make it to the live events. So his trading process and results are out there and available for students to openly see.
But even for non-students, he shares a recap of his day (including his PnL) on his Daily Profile Show on YouTube. So if you have any doubts about his track record/performance, just check that show out – it's only about 15-30mins per day.
Honestly, out of all traders and trading coaches/mentors that I know, I think Aaron Korbs has the best YouTube channel. So if you're skeptical about him and Tradacc, just start there and judge for yourself. It's an incredible free resource.
2.

He Teaches Professional-Level Trading Methods
A lot of beginners might not realize this because they're in the "unconscious incompetence" phase of their development as a trader – meaning they don't know what they don't know. But most technical analysis being taught out there has little to no edge.
I won't go as far as saying that "classic" technical analysis is worthless. But basic price patterns and candlestick formations aren't all that meaningful. They're a fine general foundation, but good luck pulling consistent profits out of the market with them alone.
By focusing on auction market theory and profiling (mainly volume profile in this case), Korbs is teaching an approach with legitimate edge. It allows you to see "under the hood" of price action and understand how markets actually move/behave.
It's no coincidence to me that literally all of the best traders and trading mentors that I've come across have methodologies rooted in profiling. These tools are simply superior in terms of organizing and analyzing market behavior.
Overall – Is Tradacc a Scam or Legitimate Trading Education Platform?
I can certainly understand the skepticism when it comes to Tradacc (or really any platform offering trading education) because most offer low-quality courses teaching surface-level concepts/methods that don't translate very well to live markets.

The sad reality for developing traders is that the education/training landscape is packed with lousy courses covering "classic" technical analysis, and as a result, it gives them the wrong idea of what's required to generate meaningful, sustainable edge.
But what almost all of this so-called "trading education" is missing is the real, in-depth foundation of how markets actually move/behave (auction market theory) and the most powerful tools to track/analyze that behavior (market & volume profile).
So what completely legitimizes Tradacc in my eyes is the focus on helping traders build real, genuine competence and skill around these things – especially through the advanced Profile Method training & mentorship program.
It took me far too long and a tremendous amount of digging (I'm talking years) before I finally came across auction market theory and profiling. But there's no doubt in my mind that it's the strongest way to view/approach markets.
I truly don't think it's a coincidence that all of the best trading mentors I've come across view markets through this lens.
Written by Matt Thomas (@MattThomasTP)
Related Pages: