---
How is Tradacc Trading For Beginners – Is Tradacc Good or Bad?
Tradacc – short for Trading Accelerator – is a trading education, training, and mentorship platform founded by Aaron Korbs.

Aaron Korbs is an intraday futures trader that specializes in volume profile and order flow – and his educational courses and training programs are focused on helping students build six-figure trading businesses using his proven methodology.
His methodology isn't just some nonsense approach based on lagging indicators or some rigid mathematical system that can't properly adjust to current market conditions. Instead, it's based on contextual analysis using real-time market generated information.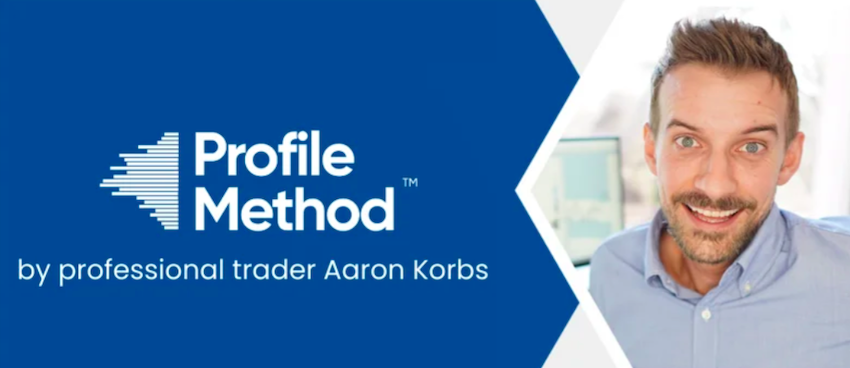 There are essentially 2 main products that fall under the Tradacc umbrella – Volume Profile Formula and Profile Method. Volume Profile Formula is a low-cost introductory course and Profile Method is a full-blown training/mentorship program.
For beginners, I think what Tradacc has to offer is ideal for a number of reasons – but the main one being an emphasis on specialization. Most retail traders fall into an ineffective generalist approach. But you have to be a specialist in order to succeed.
And what Tradacc teaches in regard to futures, auction market theory, and volume profile is the right way to go in my opinion.
Steady Student Progression From Volume Profile Formula to Profile Method:
When it comes to trading education (or really any form on online education for that matter), most beginners are often extremely skeptical of courses – and rightfully so. There's no shortage of scams, gimmicks, and other nonsense on the internet.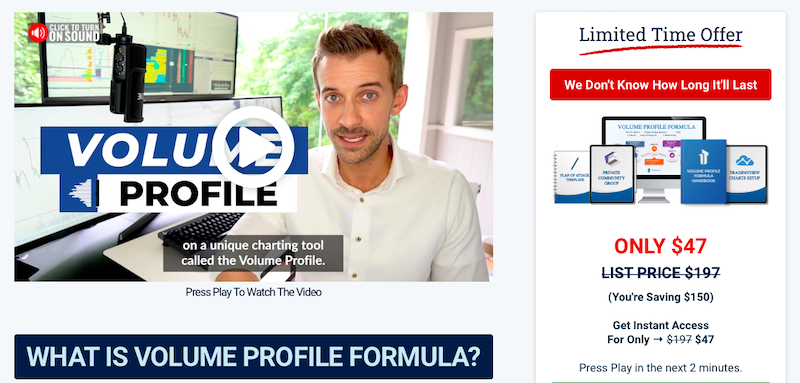 So what I really like about Tradacc and their course/program structure is the existence of the entry-level Volume Profile Formula course – which is an extremely low-cost starting point for gaining a broad understanding of Aaron Korbs' methodology.
In addition to Volume Profile Formula, Tradacc offers a handful of supplemental beginner-level courses/resources, including: Live Trading Showcase, Rapid Setups Pack, Futures Masterclass, S&P 500 Secrets, and Next Level Risk Management.

So while these courses/resources do cost money – they're relatively inexpensive, provide a ton of value, and allow you to steadily progress up to the advanced Profile Method training/mentorship program. This path builds trust and actually makes sense.
I've seen many $1K, $5K, and sometimes even $10K+ trading courses/programs out there essentially require you to make a rather expensive blind commitment – without any trial/test period of any kind. But that's not how Tradacc operates.
Tradacc's low-cost introductory courses reduce risk, build trust, and put you on the path toward legitimate trading success.
Start Risk-Free With Korbs YouTube to Learn More About His Volume Profile Methodology:
We just spent a lot of time talking about the premium courses/programs that Tradacc has to offer. But if you're not ready to commit to those yet – and just want to learn more about auction theory and volume profile – then Korbs YouTube is an outstanding resource.

If for some reason his approach to markets doesn't resonate with you, you can just move on to something else. But if it does (and I have a good feeling that it will because the methodology actually works), then this is a great free way to start learning about it.
Through his Daily Profile Show and various trading challenges: $400/Day Challenge & Apex Funded Account Challenge – it's clear that Aaron Korbs actually practices what he preaches. If nothing else, I highly suggest checking out some of his YouTube content.
As someone who has been through his Profile Method program and has access to his Trading Live Experience (which is a daily stream Mon-Thurs of live trading/teaching) – it's very clear to me that he's the real deal. But it's not always that clear for outsiders to see.
Overall, Tradacc is a trading education/training/mentorship platform that I wish existed when I first started trading. If it was available then – and I was smart enough to pursue it – it honestly could've saved me 5-10 years of time and $20,000-$30,000.
Did I eventually reach consistent profitability? Yes. But my path was far longer, harder, and more expensive than it truly had to be.
Written by Matt Thomas (@MattThomasTP)
Related Pages: