What is Volume Profile (Explained in Detail)?
To put it simply, volume profile is a distribution graphic that displays the accumulation of volume at price.
This basic 1-sentence description might not sound all that "exciting" or "fascinating". But, in my opinion, volume profile is one of the best (if not THE best) trading tools/indicators available. It's drastically underutilized amongst the retail crowd.
For some reason, volume profile isn't typically part of the "conventional" group of technical analysis indicators that new traders tend to discover and utilize at the start – like moving averages, RSI, MACD, Bollinger bands, Fibonacci lines, etc.
This is because a lot of trading platforms consider volume & market profile "advanced" tools, which makes them seem intimidating. And on top of that, most platforms either 1) don't offer profiling functionality for free, or 2) don't offer it at all.
As a result, volume profile often gets overlooked by beginners in place of inferior tools. But I think this is a big mistake. I'm not saying conventional technical indicators (like the ones mentioned above) are ineffective. But they're all secondary to profiling.
Volume profile organizes and displays market participation in a powerful way that no other tool can. It provides a pure, unadulterated view of critical market-generated information. No other tool/indicator is as good at exposing the "quality" of price.
What is Volume Profile Analysis (Composites, Imprints, etc.)?
The "default" when people talk about volume profile is often the daily volume profile. In other words, the developing histogram or distribution curve of volume at price for one specific day/session. But there's a lot more that volume profile can be used to view.
DAILY VOLUME PROFILE EXAMPLE
1-Day Electronic Trading Hours (ETH) Session Volume Profile Depicted on Right

The Grey Portion in the Middle Represents the Value Area or Roughly 70% of Total Volume (More Meaningful on Rotational Days)

Chart Also Displays 15min Candles and Volume Weighted Average Price (VWAP) With Standard Deviation Bands
Markets Tend to Be More Balanced/Rotational on an Intraday Basis, But This is an Example of a Trend Day Higher

Notice How the Market Formed Multiple Fairly Distinct Distributions on the Way Up
The Market Balanced Around a Controlling Price and Then Went Into Price Discovery Mode Higher; Repeating This Pattern 3+ Times
Also Notice How the Market Did a Good Job Holding Outside of 1 Standard Deviation of VWAP; This is Typical Trend Day Behavior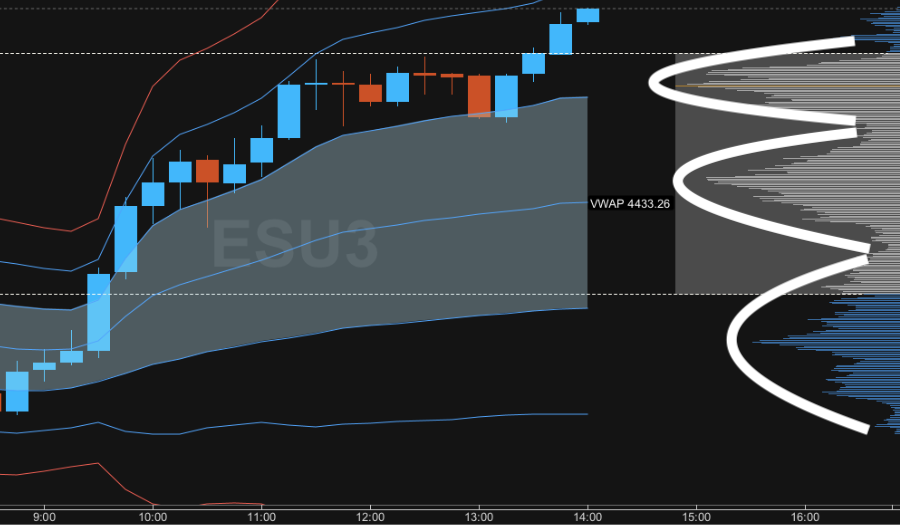 It's an extremely robust tool that can be utilized across multiple timeframes to gain valuable insights and pinpoint key levels of interest/participation (low volume nodes, high volume nodes, points of control, value areas, and more).
For example, composite volume profiles can be used to combine multiple trading days/sessions together in order to view market participation from a weekly, monthly, quarterly, and yearly perspective. These provide a wider lens of context.
COMPOSITE VOLUME PROFILE EXAMPLE
5-Day Composite Volume Profile Depicted in White on Right

Notice the General Bell Shape of the Histogram/Distribution Curve
Each Candle is 1hr and the Blue Line is the Weekly Volume Weighted Average Price (VWAP)

The Green Circle Near the Center of the Image Encapsulates the 5D Volume Point of Control (VPOC)

The VPOC is the Most Traded Price and is Considered Fair Value
The Dotted Green Lines on Top & Bottom Indicate Unfair Highs (Good Sell Location) & Lows (Good Buy Location)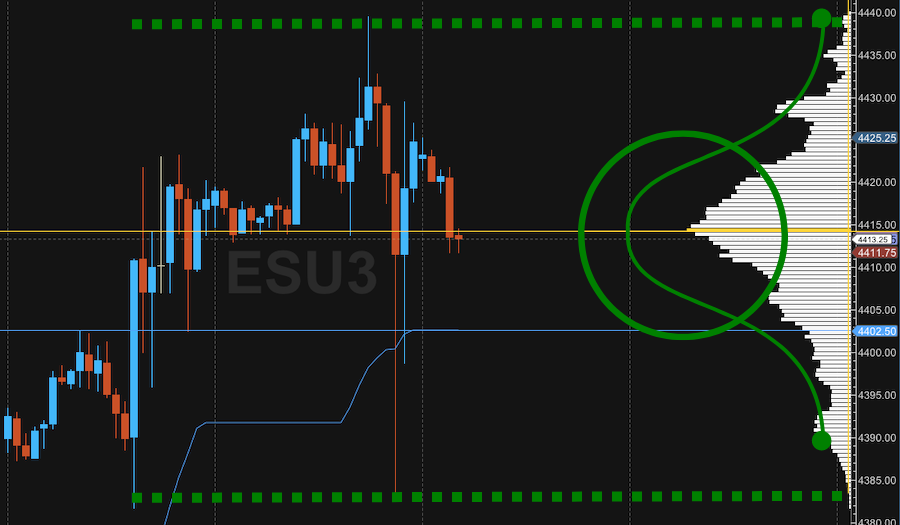 On the flip side of that, volume profiles can also be displayed on lower timeframes (less than 1 day/session), like 4hr, 1 hr, 30min, 5min, 1min, 30sec, etc. (the options are essentially limitless). These are often referred to as volume imprints.
MICRO TIMEFRAME VOLUME IMPRINT EXAMPLE
5min Volume Imprints Displayed Inside 5min Hollow Candles With 1D Summary Volume Profile on Right
This is a Type of Chart That I Personally Like to Pair With Delta (Positive & Negative Delta, Bid/Ask Percentage, etc.)

To Keep the Chart Clean/Clear and Easy to Digest, I Left Delta Out of the Image Below

Short-Term Order Flow Can Help "Trigger" Into a Position With Momentum in the Direction You Want to Go
For Example: A 5min Volume Imprint With High Buy Delta at Top, But the Candle Closes Lower and There's a Taper in the Summary Profile is an Indication of Trapped Buyers. This Could Be a Good Location to Enter a Short Position as Interest/Participation in Higher Prices is Waning and There's Potential For the Trapped Buyers to Add Selling Pressure on a Move Back Down Toward "Value" (a Nearby High Volume Node or Point of Control)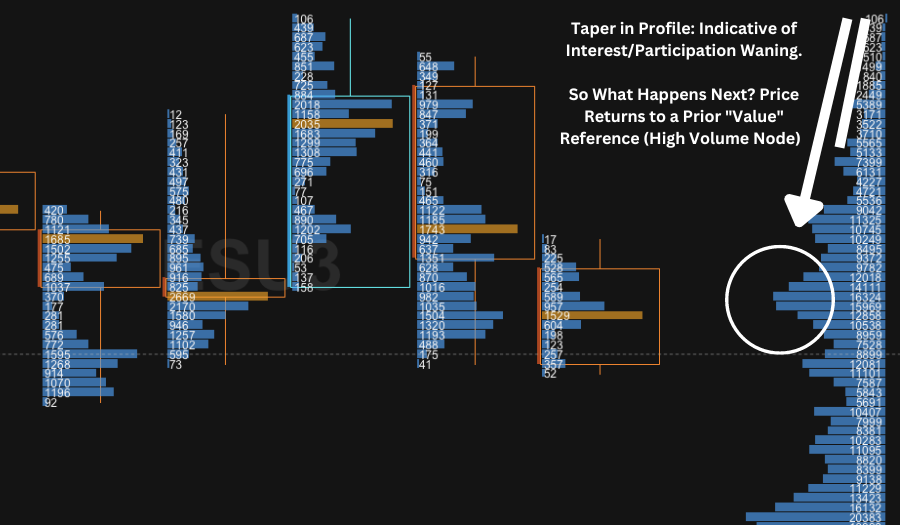 Even though you might not be all that familiar with profiling terminology just yet – the important thing to understand is that being able to view volume (aka interest/participation) at specific prices on multiple timeframes is an incredibly powerful thing.
It shows you where market participants are interested in doing business (aka building "value") and where they are not.
Volume Profile Trading Systems/Methodologies & Training Programs:
Volume profiling is certainly an extremely powerful tool. But it's not a magic formula (and nothing is in trading, by the way). So properly applying it through a strong overall system/methodology requires legitimate training/skill development.
The problem that often arises amongst beginner-level traders is that they want to turn every trading tool/indicator into an extremely basic "buy here, sell here" type of system. But this is a fairly weak, surface-level approach that offers little to no edge.
For example, it's not uncommon for newer traders to pick an indicator (like MACD) and automatically buy on every "oversold" reading and sell on every "overbought" reading. But this is nowhere close to a comprehensive strategy/system/methodology.
Top-Rated Volume Profile Training & Mentorship Programs:
TRADE WITH PROFILE PATHWAY:
TRADACC PROFILE METHOD: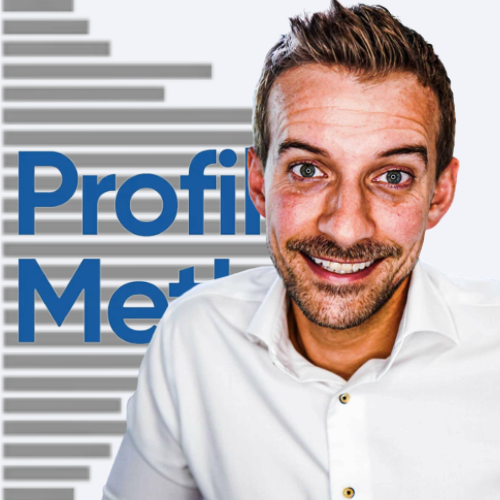 In my opinion, there are 3 core components that constitute a good trade and overall methodology. It starts with a strong narrative read, then a repeatable playbook trade setup layered within that, and is backed by short-term order flow for entry.
This is how you stack the odds in your favor – through a robust, comprehensive process backed by powerful tools and personal skill. Not enough developing traders expend the effort to generate a high-level of competence and skill around these 3 elements.
But this competence and skill (especially when built around AMT & profiling) is the source of real confidence, consistency, and edge.
The Million-Dollar Question: Does Volume Profile Actually "Work"?
I don't mean any disrespect to anyone, but I personally think this is a silly question. Because it's kind of like asking if a measuring tape "works". It largely depends on whether or not the tool is being applied correctly by the user.
When it comes to trading tools/indicators to choose from, there are numerous options – and I personally believe volume & market profile to be in the upper echelon in terms of quality. These tools offer incredible insights and profit-potential.
But as the trader, you still need to build competence and skill around the application of them in order to unlock that potential. Just like we discussed in the last section, no indicator is all that effective when turned into a surface-level "buy here, sell here" system.
Markets are dynamic, ever-evolving systems. So fixed/rigid systems don't work sustainably. And since markets change, it necessitates having the competence and skill to evolve with them. Edge is not a static thing; it's constantly shifting.
This is the strength of profiling tools. They allow you to effectively organize & analyze market structure/context/posture from the top-down (higher timeframe to lower timeframe) – and develop a robust methodology around that information & analysis.
It's no coincidence to me that all of the best traders I've come across implement methodologies rooted in AMT & profiling.
Written by Matt Thomas (@MattThomasTP)
About TradingParadigm.com
Intro Trading Success Framework Course
Related Pages: