Volume Profile Formula Course Download From Aaron Korbs at Tradacc:

Volume Profile Formula is a low-cost course offered by Aaron Korbs at Tradacc that introduces students to his robust volume profiling methodology. This methodology allows Korbs to generate a fairly consistent $10,000+ per month trading income.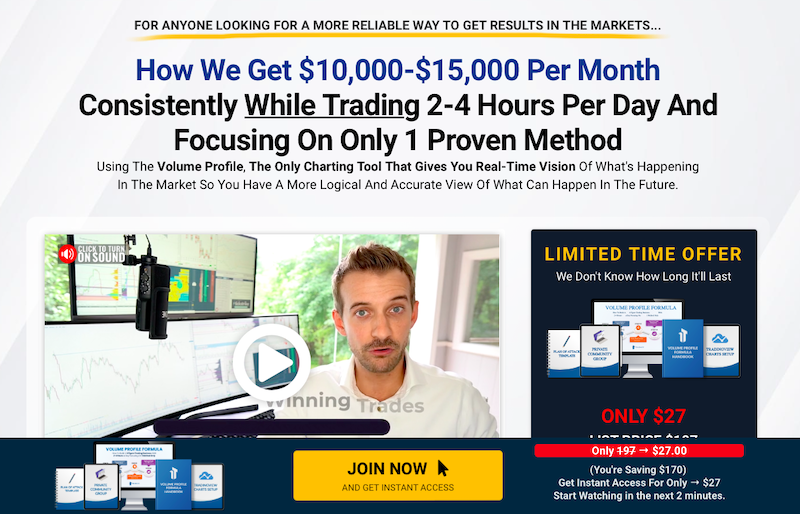 But please understand that this is not an exhaustive/comprehensive course that covers all the nuances and complexities of his methodology. So don't expect to be able to produce a substantial trading income for yourself by going through this basic course alone.
It can be part of a solid foundation, but it's just a beginner-level introduction to Aaron's approach. The real, in-depth training and mentorship is provided through his next-level Profile Method program for serious/committed traders.
Profile Method is one of the top trader training programs that I've ever been through – and it's the exact type of program that I believe is required to become a highly skilled, competent, and self-sufficient trader within a relatively short period of time.
But the real value of the Profile Method program isn't necessarily the recorded course lessons (even though the lessons are quite good). The most value comes from interactions with Aaron Korbs himself and the rest of the Profile Method community.
2 Free Resources to Help You Decide if Tradacc Courses/Programs Are a Good Fit:
If you're searching for a Volume Profile Formula course download, then (sadly) you're probably looking for a free pirated version of it. But it's already essentially free – it currently costs $27 and comes with a 30-day money-back guarantee.

So this type of "corner cutting" behavior definitely sets off alarm bells in my head and makes me concerned about your actual commitment to the craft of trading. Undermining your personal growth and development is a dangerous, ineffective path.
If this resonates with your situation, then it would probably be best to backtrack to these 2 free resources:
1.

Trading Success Framework Course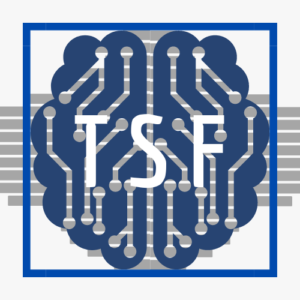 Trading Success Framework is a free course that I created to help newbies/beginners to the active trading space understand what being a legitimate trader truly entails from a foundational level. There's so much gimmicky nonsense out there online about trading – which makes it extremely difficult for the average person to figure out what it takes to succeed. But this course is completely free from flash and hype. It's all about internalizing the core values, concepts, principles, habits, and skills required to achieve long-term, sustainable trading success. It has helped numerous students either: 1) confirm that trading is something that they're deeply passionate about and want to pursue further, or 2) figure out that trading simply isn't for them and move on to other ventures. Both of which are successful outcomes in my eyes. I've seen far too many beginners dive into trading and end up wasting a ridiculous amount of time, money, and mental capital only to realize that their initial perception of what it means to be a trader wasn't anywhere close to reality.
2.

Korbs Trading YouTube Channel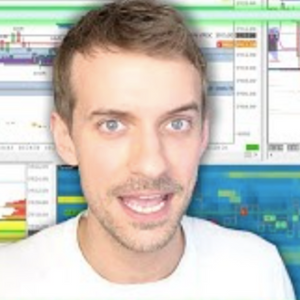 Korbs Trading YouTube Channel is honestly one of the best (if not THE best) trader YouTube channels that I've ever come across. There's so much great content offered there in regard to futures, auction market theory, profiling, and getting funded that I think everybody should be taking advantage of it. If you were to go through every video on the channel, it would easily provide a more thorough education than going through the Volume Profile Formula course by itself. It would certainly take a lot more time, but if "free" is what you're looking for, then this is an phenomenal resource. I personally find Aaron's Speculators Podcast and Daily Profile Show to be the best aspects of the channel – especially the Daily Profile Show because you don't often find trading coaches/educators who are willing to openly share their own results every single day. He saves his live-streamed trading sessions (3x per week) and Q&A coaching calls (2x per week) for paying Profile Method students. But he's still incredibly transparent with the public about his daily profits/losses.
The Most Popular Question – Is Tradacc/Aaron Korbs a Scam or Legit?
When it comes to any trading guru/course/program, this is typically the most frequently asked question: "is it a scam or legit?"
It's definitely a fair question because the trading education space is full of low-quality, surface-level content – and even many outright malicious scams/frauds. So it's not all that easy to pinpoint trustworthy sources of education, training, and mentorship.

But having nearly a decade of experience scouring the landscape of trading education and going through dozens of courses/programs/services, I have to say that Aaron Korbs is one of the best, most legitimate trading mentors I've found.
In fact, almost every single one of my top trading mentors (Aaron Korbs, Josh Schuler, Merritt Black, Morad Askar, etc.) have 3 things in common: futures, auction market theory, and profiling – and I don't think this is merely a coincidence.

Futures simply offer superior markets/products to trade on an intraday basis (in terms of regulation, transparency, liquidity, capital-efficiency, tax-friendliness, etc.) and profiling tools are the best way to view and analyze those markets/products.
I wouldn't say that the intro-level Volume Profile Formula course is "out-of-this-world" good or anything like that. But Aaron Korbs definitely leads serious developing traders in the right direction toward his next-level Profile Method program.
Written by Matt Thomas (@MattThomasTP)
Related Pages: