What is Volume Profile Formula and is it a Scam?
Volume Profile Formula is an intro-level course offered by Aaron Korbs at Tradacc.
So if you think this course alone is going to be some magical ticket to trading success – you're sorely mistaken. It simply covers the power of volume profile as a tool and Aaron Korbs' personal trading methodology at a fairly high-level.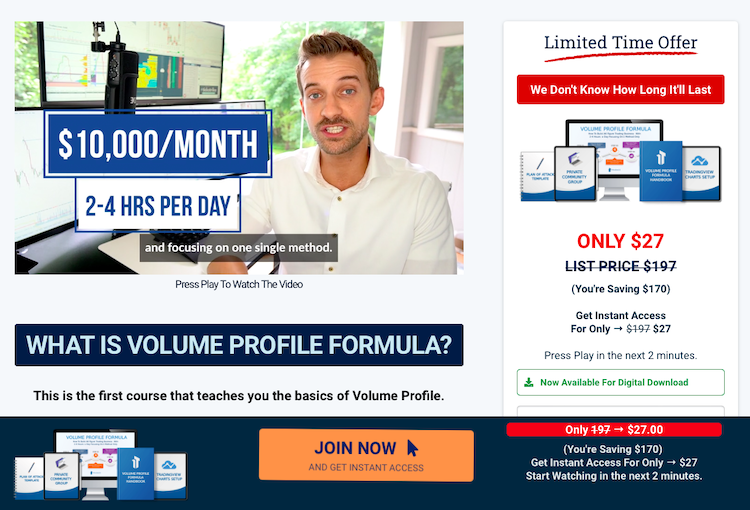 I've seen a handful of people who have zero firsthand experience with the Volume Profile Formula course call it a scam . But I've actually been through every single course that Aaron Korbs has to offer, including his top-tier Profile Method program.
So this review is based on real firsthand Tradacc experience. And to get right to the point: do I think the Volume Profile Formula course is a scam? Absolutely not. But it's certainly not a comprehensive, A-Z trading course either.
All it's meant to be is a cost-friendly (typically $50 or less), intro-level course for beginners to get familiar with volume profile and Aaron Korbs' general approach to trading. It's not meant to be a top-level program; just a fairly basic introduction.
For premium training & mentorship from Aaron Korbs covering all the nuances/specifics of his approach, that's what his full-blown Profile Method program is for. Volume Profile Formula is merely a foundational stepping stone to that.
Volume Profile Formula Reviews – Top Reasons For "Scam" Accusations:
"Bait". "Upsells". "Misleading".
From what I've been able to gather from those who label Volume Profile Formula as a scam, the most common complaints are typically something along the lines of it being "bait" for "upsells" to other courses.

Tradacc does, in fact, offer numerous courses/programs for students to purchase. But I don't exactly agree with the sentiment that they're being "misleading" by offering more than just the Volume Profile Formula course. That's just nonsense.
What they're providing is a steady progression from basic to more sophisticated education, training, and mentorship. This isn't "trickery"; it's just logical. The beginner-level courses essentially serve as a low-cost trial/primer for the Profile Method program.
If you're one of the people who agrees with the whole "bait" & "upsells" thing, then what's the alternative? Would you prefer Tradacc not offer any cost-friendly introductory courses? Is that really what you want? Or would you complain about that too?
Overall, I don't think these complaints really have much to do with Aaron Korbs, Tradacc, or the Volume Profile Formula course at all. They're more a result of the general public's misguided idea of what becoming a consistently profitable trader truly entails.
You can't just "buy" trading success in a course. You have to earn it through personal development (aka habit & skill-building).
Final Thoughts on the Volume Profile Formula Course – Scam or Legit?
I can't say that Volume Profile Formula is one of the best trading courses I've ever been through. That category is reserved for top-level training & mentorship programs like Profile Method & Josh Schuler's Profile Trading Development Pathway.
But for the price (currently being sold for $27), I definitely think Volume Profile Formula is well worth it. It's basically free already and comes with a 30-day refund policy. So it's honestly ridiculous to call it a scam. There's hardly even a cost associated with it.
Even though the course isn't anywhere close to the "be all end all" of trading courses (and it's not designed to be anyway), I like it because it points people down a powerful path from an edge/methodology perspective rooted in auction market theory and profiling.
Most retail traders tend to go down a fairly weak/ineffective route when it comes to their market understanding (learning all sorts of cookie-cutter candlestick patterns, for example). And while I'm not saying these things are entirely "bad" – they're surface-level.
In my opinion/experience, deep market competence and trading skill is established with auction market theory as a framework for market movement/behavior and volume & market profile as tools for organizing, analyzing, and ultimately executing on that behavior.
Overall, the Volume Profile Formula course is a stepping stone down a powerful path into futures, auction market theory, and profiling.
Written by Matt Thomas (@MattThomasTP)
About TradingParadigm.com
Intro Trading Success Framework Course
Related Pages: