The Advanced Traders Mindset Course Can Be the Difference Between Success and Failure:
The Advanced Traders Mindset Course was created by Chris Capre, Founder and CEO of 2ndSkies Trading. What makes Chris Capre and the 2ndSkies community so unique is their supreme focus on developing self-sufficient traders with winning mindsets – because that's what it takes to achieve consistent market success. By refusing to attain the proper mindset, over 90% of traders fail.
The reality is that we're not naturally wired to be good traders – that's why so many traders fail. And it's also why so many stock trading alert services, newsletters, and educational programs fail to work as well. Their focus is almost always in the wrong place. 2ndSkies Trading, however, is the only day and swing trading educational platform I've come across so far that offers a legitimate mindset course. Most other programs think a short video or blog post will suffice, but their surface-level approach has no impact.
The Advanced Traders Mindset Course goes much deeper than this – to a point where genuine change and growth are possible. Through 20 core lessons and an additional 12 lesson meditation series, Chris Capre provides not only the knowledge, but the specific tools to use for evolving into a consistently profitable trader. If you want to accept the high failure rate, then do what most other traders do and focus on shortcuts. But if you want to reject it, then stack the deck in your favor by developing the proper mindset.
3 Hidden Forces Holding You Back From Consistent Trading Success:
It usually takes years for traders to realize that their mindset is the main cause of their struggles. This is because our limiting attitudes, beliefs, and perspectives are mostly hidden. They're not something we typically think about on a conscious level. As a result, we bring many patterns of thought, feeling, and behavior into the market that are simply ineffective within that environment.
Without realizing it, our decision-making process is being sabotaged on a trade-by-trade basis. The three psychological forces below are typical amongst traders and exactly what The Advanced Traders Mindset Course was built to fix.
1.

Limiting Beliefs About Money

As we grow up, we have thousands of outside forces imprinting on our minds – our friends and family, books we read, TV shows and movies we watch, among many other things. All of these forces give us ideas and help us develop our self-image. Over time, certain attitudes, beliefs, and perspectives we have can become quite strong with repetition and emotional load.
When it comes to money, most of us have heard the same sayings over-and-over again: "Money is the root of all evil" and "Only greedy people are rich". If we hear these messages enough times, we internalize them and they become part of who we are. But then when we decide to get into trading, where the end goal is to make money, now our trading efforts are in direct conflict with our programming.
Before we can achieve success as traders, we have to overcome our current conditioning. Otherwise, we'll constantly be battling our own brains that want to tell us that we're "greedy" and "evil". But that's not the truth – it's just conditioning.
2.

Tendency to Operate Out of Survival Mode
Typically, about 75% of our thoughts are negative. It sounds pessimistic, but this way of thinking was necessary for human survival. Thousands of years ago – before houses, supermarkets, and other normal aspects of everyday life, our negativity bias protected us from threats (bad weather, wild animals, starvation, etc.). This bias is a natural part of us, and historically, it has served us well.
But within the market environment, operating out of survival mode is terribly ineffective. Under stress, our central nervous system prepares for self-preservation, shutting down what it deems as unnecessary functions. We shift into fight-or-flight mode and our rational thinking is temporarily eliminated. What kind of impact do you think this has on your trading decisions?
It's no wonder that so many traders fall into patterns of repeating the same mistakes over-and-over again. You might know intellectually what you should be doing, and are even going into each trading session with a plan, but then it all falls apart.  Your in-the-moment impulses take over, leading to erratic, inconsistent, and overall negative results. You feel like you have no control.
3.

Obsession With Results Instead of the Process
Yes, our primary goal as traders is to make money. But obsessively focusing on that comes at the expense of properly developing and refining our process. The vast majority of traders fall into this trap. It's tricky because we think that profits are what we should be focusing on, but that's merely the output. What we should actually be focusing on are the critical inputs that produce that output.
In other words, if we focus on the process, then the outcome takes care of itself. Most of us make profit goals when we should be making process goals. Instead of worrying so much about every little fluctuation in our account balance, we should be worrying about our preparation, execution, and review processes. If those components are strong, then our results will be strong.
You have to make the choice between short-term emotional gratification and long-term trading success. When phrased this way, most people will choose long-term trading success. But when they enter the market environment and start actively trading, their behaviors tell another story. Their impulses, insecurities, bad habits, unrealistic expectations, and defensive mechanisms take over.
Take This Course Before You Go Off Chasing Hot Stock Alerts – You'll Thank Me Later:
It's sad to the point where it's almost laughable, but most stock trading programs don't focus on self-sufficiency or mindset at all. Instead, they focus on spoon-feeding subscribers hot stock tips, picks, and alerts. This is what new, inexperienced traders think they want. The easy path. A shortcut. After all, how hard could it be to copy the trades of a guru? Why wouldn't it work?
It's not until they spend thousands of dollars on bogus alert services, and to top it off, lose thousands more in the market trading incompetently, that they realize the importance of building the proper foundation. If you think long-lasting success can be achieved by blindly mirroring alerts, then enjoy giving your hard-earned money away. I've been there before, so I know. But if you understand that building core skills and the proper mindset are the main drivers of your success, then consistent profitability can be yours.
I know traders who have paid $3,000 – $10,000 for stock trading courses and mentorship services that barely touch on how to build the appropriate mental framework for long-lasting success. I'm not saying that these other services are flat-out bad, but they're gravely lacking in an area that is critical for achieving consistent profitability. They're failing their students by overlooking the psychological component. Luckily, this course fills the gaping holes that most other trading services leave behind by focusing on mindset.
What Do Elite Athletes Like Michael Jordan and Successful Traders Have in Common?
When you think about elite athletes or top performers in any area of life, what comes to mind? How do you think they achieved their success? Most people chalk it up to pure luck or chance, throwing around terms like "innate" or "natural" talent. People like Michael Jordan and Tiger Woods were simply born to succeed, right? But the reality is that success is the direct result of building core skills and mindset. Thousands of hours of training went into their accomplishments, but that's not what most people like to focus on.

Psychologically, it's easier for us to think that some people are just "born with it" – that they're the "lucky few". It rationalizes our own lack of effort. Why try if we weren't "gifted" with natural abilities? But we're so much more capable of growth and development than we tend to assume. Our physical talent and mental intelligence levels are far from fixed. Jordan and Woods wouldn't have achieved all that they've achieved without years of hard work. It's interesting how quick we are to ignore that.
Do you really think Jordan is the best basketball player of all time just because he's tall? His height is simply average as far as basketball players go. There are millions of people in the world at his height, yet he was the one to use it to become the best basketball player of all time. To a small degree, his height mattered. But to a substantially larger degree, it was his nonstop practice of core skills and the development of a winning mindset that lifted his performance above the rest. He was deeply committed to the training process.
Before even stepping foot onto the court for a game, Jordan had already won within his own mind. It was the preparation phase – the training of body and mind – that dictated the execution phase (his performance within the game itself). His elite skills and winning mindset became automatic, subconscious habits. This directly relates to achieving trading success – the hard work is already done before the execution phase. Mindset impacts performance much more than we like to admit.
Conclusion – The Advanced Traders Mindset Course Can Wire Your Brain For Trading Success:
The bottom line is that competence depends on context. Most of us have patterns of thought, emotion, and behavior that might work well in other aspects of life, but they don't serve us within the market environment. So in order to become effective and profitable traders, we have to wire our brains to achieve our specific goals. This wiring process takes place with repetition and intention, through a process called self-directed neuroplasticity. We don't have to accept our current programming because we can change it.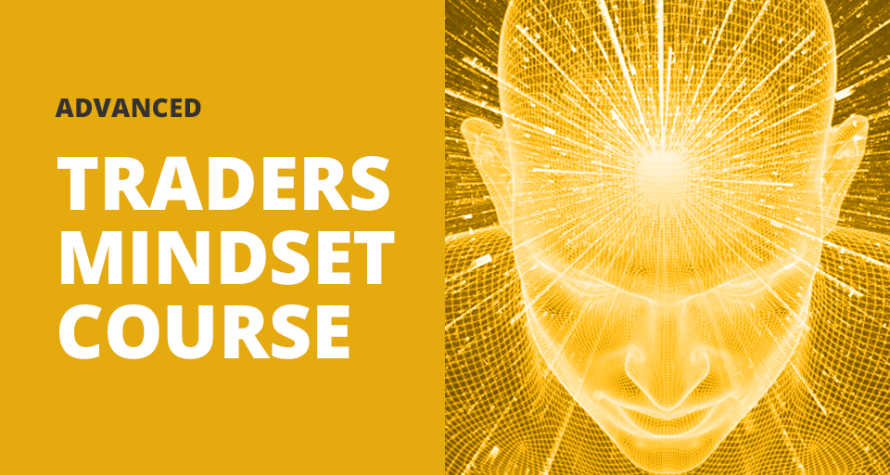 99% of trading courses and programs out there will simply tell their students to "be more disciplined" when they're struggling with the typical list of trading woes: impulse trading, revenge trading, overtrading, removing stop losses, adding to losing positions, taking trades with insufficient risk/reward ratios, and any other behavior that goes against their rules. But telling a trader to "be more disciplined" most likely won't fix their problems. It's just surface-level advice focused on symptoms instead of treating the root cause.
It would be like treating a headache with Tylenol when the cause of the headache is a brain tumor. The symptom will just keep coming back until the actual cause is treated. In trading, most people try to be more balanced, disciplined, and consistent through sheer willpower, but there are deeper, hidden forces at play that willpower can't fix by itself. Long-lasting trading success has to come from taking responsibility, gaining self-awareness, and adjusting your mindset to align with the realities of the market.
Ignore the noise of hot stock alerts and start concentrating on what really matters – building core skills and a winning mindset.
Check out My Free Trading Success Framework Course
Written by Matt Thomas (@MattThomasTP)
Related Pages: