---
The Trading Masterclass at 2ndSkies Trading With Chris Capre: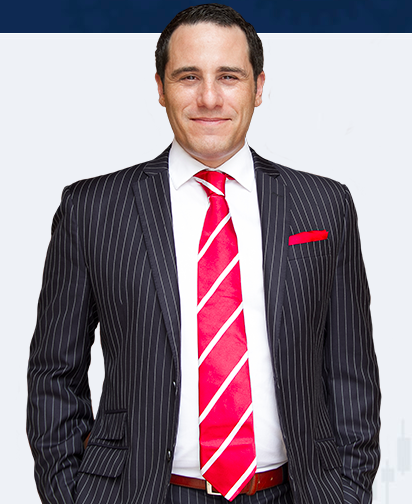 The Trading Masterclass at 2ndSkies is designed for serious traders with a legitimate interest in their own long-term success. This isn't for traders chasing shortcuts in the form of foolproof systems or stock alert systems. Lazy, copy-cat traders end up in the 90% that fail. It's for those willing to learn and develop their core trading skills in order to be in the exclusive 10% of traders who are consistently profitable. Contrary to popular belief, trading is a skill-based endeavor that requires training to succeed.
Whether you are new or experienced, a part-time or full-time trader, this course is ideal as long as you are committed to growth. With Chris Capre as the head trader and teacher, you are receiving mentorship based on two decades of trading experience. He started off as a broker, then became a hedge fund trader, and now runs his very own trading and mentorship programs at 2ndSkies. In addition to The Advanced Traders Mindset Course, The Trading Masterclass is an incredible value for traders committed to long-lasting success.
I've seen far too many hopeful traders pay thousands of dollars per year for alert services that only set them up for failure. Chris Capre and the 2ndSkies community fly in the face of these ineffective services by actually providing real education and training on core tactical and mental trading skills.
What Exactly Does The Trading Masterclass With Chris Capre Have to Offer?
There are five core components of The Trading Masterclass: pre-market watch lists, live trading sessions, exclusive video lessons, day and swing trading channels, and ongoing analysis and mentorship.
Notice how there is no mention of hot stock alerts. Nor false promises of explosive profits. That's because this is a trading service with integrity, focused on serving you – the student. Most other services out there simply brag about their own returns and gain popularity based on distorted profits. But 99% of subscribers can't come close to achieving the same levels of success. In fact, most alert service subscribers lose money. At 2ndSkies, however, the focus is on building core skills and mindset. The difference is massive.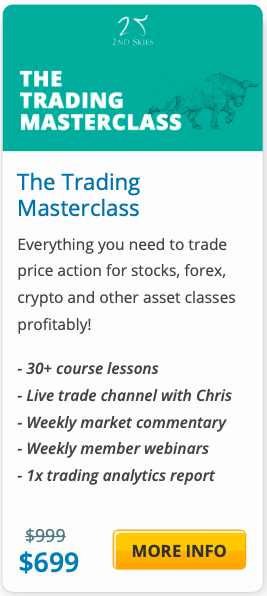 1.

Pre-Market Watch Lists
Daily watch lists offer students the opportunity to understand market trends, key support and resistance levels, upcoming earnings announcements, and other potential market-moving news. They also provide a short list of stocks that Chris is keeping his eyes on for potential trades. Keep in mind that these stocks are not automatic "buys", just potential trade ideas.
[Check Out Chris Capre's 2020 Trading Results]
2.

Live Trading Sessions
Live trading sessions with Chris provide an inside look into the operations of a consistently profitable trader. This is significant access for traders to completely understand what it takes to be successful. This provides you with the opportunity to see exactly what Chris does in real time: how he performs analysis, when he takes trades, and why he's entering them.
3.

Exclusive Video Lessons
Video lessons are available for you to educate yourself on price action, proper mindset, specific strategies, and how to analyze trades, among many other topics. The lessons form an educational foundation and should be consumed right at the start. The watch lists, live trading sessions, and ongoing mentorship can then be used to reinforce the lessons learned.
[Read Reviews and Testimonials From Real Members]
4.

Day and Swing Trading Channels
The day and swing trading channels are hosted on Discord. These are essentially chat rooms where you can get help, ask questions, and share trade ideas. This is also where Chris posts announcements, course updates, and other critical information – like the details for upcoming member webinars. The global 2ndSkies community comes together here with a focus on learning.
5.

Ongoing Analysis and Mentorship
This is the most important aspect of the program and where Chris' mentorship shines. There are plenty of services out there offering watch lists, video lessons, chat rooms, etc. But not many of them can effectively guide traders from losing money to becoming consistently profitable. There's a huge difference between knowledge and practical application, and Chris can escort you over the gap.
[Get Free Access to 2ndSkies With Intro to Trading School]
How Does The Trading Masterclass Compare to Other Mentorship Programs?
There are two mentorship programs I've personally used in past years to compare The Trading Masterclass to: Millionaire Roadmap and The Nucleus. At the time, these two services were some of the first to offer live streams of their brokerage accounts, which provided unlimited transparency into the every-day activities of millionaire traders. But what I realized over time was that these two services were missing some core elements, which I'll discuss below.
Millionaire Roadmap and The Nucleus were also quite expensive – around $5,000 per year. Considering The Trading Masterclass offers roughly the same levels of access and mentorship from a verified profitable trader, it's a no-brainer at just a fraction of the cost – $699 for the first year, and then $199 per year after that. In fact, you could buy all four courses offered at 2ndSkies for about 70% less than one of those other expensive mentorships. This is an incredible value when it comes to personal, life-long trading mentorship.
Here are 2 core areas where The Trading Masterclass has an outsized advantage over other courses:
#1

 Focusing on Mindset as a Foundational Element
This is where 2ndSkies knocks the ball out of the park, in my personal opinion. It's funny how the typical trading journey goes. You start out thinking mindset doesn't really matter much at all. Then as each year passes, you realize it's more important than you thought. Until eventually you accept that at least 80% of your trading success depends on acquiring the proper mental framework. It took me three or four years of self-sabotage and inconsistent returns to recognize the true impact of mindset. The truth is that nobody is a natural at trading. Everybody who enters the market environment has to attain a special set of mental skills.

#2

 Teaching Price Action Context and Order Flow Analysis
So many trading programs simply share their technical indicators and trade setups with members, but what they fail to teach is price action context and order flow analysis. This is critical because individual indicators or candlesticks don't mean much on their own. What matters is the context behind them. That's what tells the story. The best part of all is that these price action context lessons apply to every instrument, time frame, and environment (stocks, options, day trading, swing trading, etc.). This is a major building block, along with the mental component, that Chris provides so that his students become competent and ultimately self-sufficient traders.
Conclusion – This is Not Your Typical Trading Service That Focuses on Sending Hot Alerts:
If you look at the 2ndSkies home page, or even the sales page for The Trading Masterclass, you won't see any of the typical profit proclamations or marketing gimmicks that are so prevalent in the trading industry. It's truly a breath of fresh air.
But I know many new traders to the scene won't see it that way. I understand because I've been in your shoes before. When I first started out, that's all I searched for. An alert service that would supply me with hot stock picks, thus generating easy, market-beating returns like clockwork. It's safe to say that it's just not that easy. Alert services certainly sound nice, but reality is a different story.

There are two major forces that come together to hinder your ultimate trading success. The first force is your dreams to get-rich-quick, and this desire is emotionally-charged and strong. The second force is alert services that use false promises and distorted profits to prey on your desire to get-rich-quick. Before you know it, you're headed down a destructive path that simply doesn't work. It took me years to recognize the real path to trading success, but I hope that your realization comes much sooner in your journey.
Overall, The Trading Masterclass at 2ndSkies is a high-quality service. Chris Capre is humble and the 2ndSkies courses seem to fly under the radar, but it's because he isn't deceiving students into subscribing. His programs aren't tricks or scams. They're focused on the foundational elements of trading success – building core skills and mindset. That's what it's all about.
The path you choose is up to you. But if I were to turn back time on my own journey, I would choose 2ndSkies right from the start.
Learn More in the Trading Success Framework Course
Written by Matt Thomas (@MattThomasTP)
Related Pages: