Who is Yvan Byeajee and What is TradingComposure.com?
Yvan Byeajee, in my opinion, is one of the greatest trading psychology teachers of our time. Without his insights and wisdom in the form of tweets, blog posts, books, YouTube videos, and courses, I think I would still be flailing and failing in the markets.
Before I came across any of his content, I was nothing more than an impulsive, copy-cat trader – constantly in search of the next hot pick or guru alert. But thankfully his book – Zero to Hero – took me in a much more constructive and effective direction.
From there, I discovered many more of his books on Amazon, his blog at TradingComposure.com, and best of all his courses – especially The Trading Psychology Mastery Course and The Trading For a Living Course – both of which have had an incredible impact on me.
What stands out the most about Yvan is his unmatched integrity. He's not your classic trading guru on the internet boasting about gains just to boost his own ego and sell you something. Instead, he's completely honest about the realities of trading for a living.
He's lived the struggle for himself, so he knows exactly what it takes – and his wisdom is incredibly valuable. Rather than taking the same path he did – losing 85% of his initial $100,000 account over five years – he can guide you on the proper path from the start.
At this point in time, his net trading profits are in the millions and consistently growing. Feel free to read more of his story here.
3 Ways to Learn From Yvan Byeajee at Trading Composure 100% Free:
Since Yvan Byeajee's philosophies on markets are immensely powerful, especially his position on the importance of trading psychology, I wanted to put this list of resources together so that every active market participant knows where they can learn from him for free.
1.

Social Media – Twitter, Instagram, Facebook, and YouTube
Yvan Byeajee is active on multiple social media platforms, including Twitter, Instagram, Facebook, and YouTube. But in my personal opinion, his YouTube and especially Twitter are the two that really stand out. That being said, he's worth a follow on any platform.

He currently has over 150,000 Twitter followers and tweets multiple times per day – mostly about the psychological aspect of trading. I don't spend much time on Twitter myself (maybe about 10 minutes per day), but I often find myself liking and retweeting his posts.
When it comes to his YouTube channel, there's not a ton of content (only about 50 total videos at the moment), but it's full of guided meditations to help supplement his mindfulness teachings. So it's a great place to find guided meditations specific to traders.
2.

Blog Posts Published on His Website – TradingComposure.com
Another great way to learn from Yvan Byeajee is by reading through his blog posts published on TradingComposure.com. These articles go much more in-depth on his personal thoughts, beliefs, and experiences than any single social media post ever could.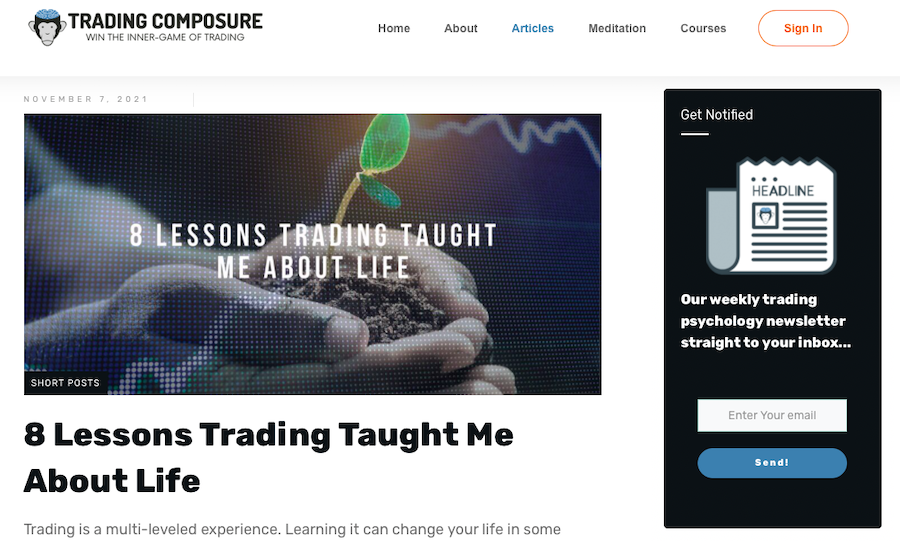 I personally read every single one of his blog posts, which typically come out about once per week. If you join his email list, you won't have to worry about receiving any spam – all he sends out to his subscribers is one email per week about his most recent article.
So in addition to following Yvan on one or more social media platforms, I highly recommend reading as many of his blog posts as possible. This is where some real wisdom is shared. His tweets are like golden nuggets of information, but his posts are golden bars.
3.

The Psychology of Risk For Traders Course
Yvan also offers a free course called The Psychology of Risk For Traders. Within this course, Yvan discusses the concepts of loss, risk, and uncertainty – all of which are unavoidable when operating within the market environment, yet we tend to handle them quite poorly.

This isn't your average risk management course that talks about the mathematical/mechanical components like where to place stop losses, profit targets, etc. Instead, this mini-course digs into the philosophical side of risk and how we should approach it for success.
Most people avoid risk, but fail to understand that risk represents opportunity – not just danger. This doesn't mean we should be recklessly taking risks, but we should be looking for opportunities where the rewards far exceed the risks – asymmetric bets.
Trading Psychology Will Determine Your Long-Term Success or Failure in the Markets:
I know a lot of people will brush off the importance of trading psychology and essentially ignore it for the more exciting aspects of trading like strategies, systems, and most of all – the potential rewards. But this is an extremely dangerous practice.
Diving into the markets without working on your own attitudes, beliefs, and perspectives is like building a house without a strong foundation. Things might seem fine in the beginning, but at some point down the line there's going to be problems.

The reality is that every single person is naturally a bad trader – we're just not built for it. We all have defensive mechanisms and biases that simply don't serve us well within the market environment. So changes are 100% necessary for success.
I've seen even the best strategies and systems be compromised by individuals with ineffective mental frameworks. So it's clear that having a statistical edge is one thing, but there's also another component – being able to actually execute on it with consistency.
Luckily, there are people like Yvan Byeajee sharing their experiences and wisdom in order to help struggling traders develop stability of mind and an overall winning approach. His insights are invaluable for traders of all levels around the world.
Check Out My Free Trading Success Framework Course
Written by Matt Thomas (@MattThomasTP)
Related Pages: