---
Who is Aaron Fifield and What is the Chat With Traders Podcast?
Aaron Fifield is an active trader and the host of Chat With Traders – a podcast that features backstories, struggles, strategies, achievements, perspectives, and lessons from all kinds of successful traders (individual/retail, prop firm, hedge fund, etc.).
Not only do these traders have experiences to share in a vast number of settings, they also trade a vast number of markets, instruments, time frames, and methods (equities, options, forex, futures, day trading, swing trading, position trading, algorithmic, etc.).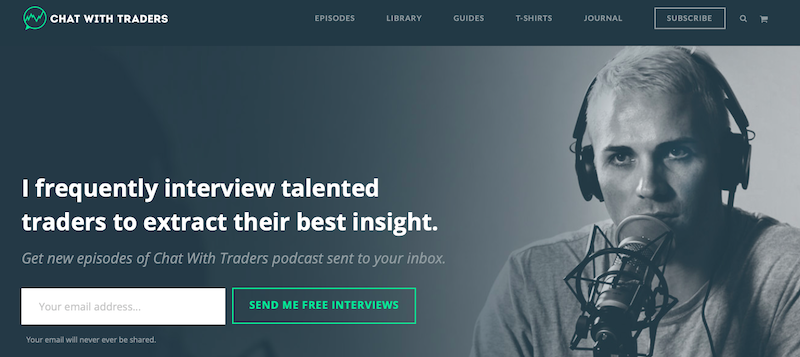 In my personal opinion, Chat With Traders is a "must listen" that can benefit traders of all kinds – from a beginner level all the way up to advanced. I've personally listened to over half of the 200+ podcast episodes thus far and the insight gleaned is incredible.
The concept of the podcast is very similar to the popular Market Wizards book series created by Jack Schwager – in which he interviews and shares wisdom from some of the most successful traders of all time (Paul Tudor Jones, Richard Dennis, Ed Seykota, etc.).
But instead of having to read through books, you can listen to podcasts like Chat WIth Traders. I'm personally a big fan of reading, but I know many others are not – so I think a podcast like this can be immensely valuable for those opposed to reading.
Even Jack Schwager himself has been on the podcast multiple times – episode 27 & 78 – so be sure to give them a listen.
Top Traders and Trading Coaches Who Have Been Interviewed on Chat With Traders:
Aaron Fifield first became interested in trading back in 2012, launched the Chat With Traders podcast in 2015, and has since amassed hundreds of thousands of followers and millions of plays. So it's no surprise that he's had some big names on his show:
Mike Bellafiore
Mike Bellafiore is the co-founder of SMB Capital – an extremely successful proprietary trading firm located in Midtown Manhattan that's been known to turn new traders into big money earners (six, seven and sometimes even eight-figures).
He's also the author of two amazing trading books: One Good Trade & The Playbook – I highly recommend them both. And be sure to check out SMB Capital's YouTube Channel. In my opinion, it offers the best free educational videos in the industry.
Edward Thorp
Edward Thorp was a mathematics professor at MIT who developed methods to beat the house edge in casino games like blackjack, roulette, and baccarat. He's widely known as the father of card-counting thanks to his best-selling book: Beat the Dealer.
After leveraging his research in actual casinos, he eventually went on to launch two hedge funds in which he used his expertise in probabilities and statistics to beat the markets. Not many individuals can claim that they beat both Las Vegas and Wall Street.
Additional Guests on Chat With Traders:
Timothy Sykes (Profit.ly & StockstoTrade) – Featured in Episode 3 & 47
Steve Burns (NewTraderU) – Featured in Episode 5
Tim Grittani (Trading Tickers/Trading Tickers 2) – Featured in Episode 10
Anthony Crudele (Futures Radio Show) – Featured in Episode 80
Kunal Desai (Bulls on Wall Street) – Featured in Episode 20
Linda Raschke (Street Smarts) – Featured in Episode 48
Nathan Michaud (Investors Underground) – Featured in Episode 55
Brett Steenbarger (The Psychology of Trading) – Featured in Episode 65
Anthony Saliba (Managing Expectations) – Featured in Episode 107 & 155
Jared Tendler (The Mental Game of Trading) – Featured in Episode 86 & 217
And Hundreds More…
The 2 best ways to follow Aaron Fifield and the Chat With Traders podcast is on the CWT main website and Twitter account.
Learn More in the Trading Success Framework Course
Written by Matt Thomas (@MattThomasTP)
Related Pages: