---
Top 3 Free Resources For Stock Market Terminology Definitions:
When getting started in the stock market, learning popular terminology and concepts is the ideal first step. This base understanding of terms and concepts is the foundation that everything else is built upon. Without it, more complex topics can't be fully understood.

Below are the absolute best free resources that I've personally used – and continue to use – to increase my understanding of stock market terminology, as well as all kinds of other terms and concepts related to money, wealth, and finance in general.
Investopedia is an unbelievable resource for looking up any kind of financial terminology. Even still today – well into my own trading and investing journey – I use Investopedia all the time for looking up terms related to stocks, bonds, ETFs, mutual funds, options, futures, forex, market analysis, day trading, swing trading, long-term investing, retirement accounts, and more.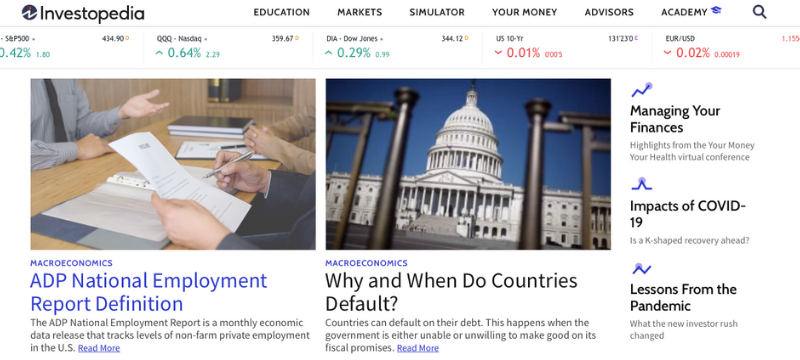 In addition to being able to look up all kinds of trading, investing, and finance-related terms, Investopedia also offers a handful of other helpful resources – like courses, news, reviews, and even a stock market simulator. Overall, Investopedia is easily my favorite platform for quickly looking up financial terms and concepts for free in order to fill the gaps in my own understanding.
In addition to Investopedia, the Investors Underground Day Trading Encyclopedia is another phenomenal resource. While Investopedia covers a broad range of financial terms, this resource is tailored specifically for active stock market traders. There are near-endless chart patterns and indicators within the day trading world, making this a great reference guide for beginners.
In addition to this encyclopedia, Investors Underground also offers a Free Beginners Day Trading Course for those interested in momentum trading. This is one of the best free day trading courses that I've come across online – offering a great introduction to candlestick charts, specific setups, short selling, trading software, scanners, risk management, brokerage platforms, and more.
This is essentially a backup plan if Investopedia and Investors Underground fail, but if there's a financial term or concept you can't find the definition for using those two resources – then you can simply Google it. This is something you most likely won't run into very often – or ever – since the former two resources put together are quite comprehensive, but you never know.
If you've been researching stock market terminology and concepts for as long as I have, then you probably know that most financial search queries in Google will bring up results for Investopedia articles – which just goes to show how strong of an authority the Investopedia website is within the financial space. I've learned so much from these three sites that it's hard to quantify.
Take Your Knowledge a Step Further With the Best Day Trader Training:
What's most important for new traders to understand is that trading success requires much more than information. Consuming information and learning key terms and concepts is a good start, of course, but it doesn't replace legitimate training.

The thing about most new traders is that they think: 1) they can just "wing it" without learning anything at all or 2) they can just learn a good setup or two and be fine. But all winging it does is leave your results up to random chance and learning a setup or two is far from having the necessary skills to consistently profit in the market. A chart setup alone does not determine success or failure.
There's also specific entries & exits, risk management, and trading psychology to consider, just to name a few – all of which can drastically impact results. Depending on how they go about it, one trader can make millions each year while another consistently loses money – both trading the same setups. The differentiating factors are core skills, clean statistics, and proper execution.
For the practical application of theoretical concepts which allows you to turn knowledge into legitimate skills, I highly recommend the following two day trading mentors. What sets these educators apart from others in the space is their focus on training.
#1

Thomas Kralow – University Grade Trading Education
Thomas Kralow's University Grade Trading Education is a full-blown learning program designed to take new traders from knowing absolutely nothing about trading to having the skills required to consistently profit in the markets within about five months.
This is the real approach to trading success. It's not just some chat room or alert service that pumps you full of unrealistic expectations with false promises. Instead, it's the authentic path with over 200 lessons, 140 homework assignments, and 80 tests.
These lessons, assignments, and tests not only provide information, but help facilitate the internalization of core concepts and skills. And it all leads up to the creation of your own personal trading algorithm (aka trading system) – which can be refined over time.
#2

Chris Capre – The Trading Masterclass & The Advanced Traders Mindset Course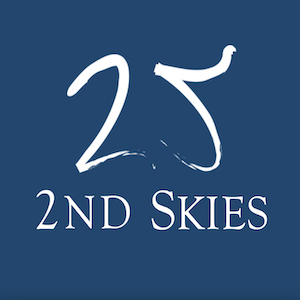 Chris Capre is another mentor that focuses on training his students for self-sufficient trading success. He offers a handful of courses and services, but in my personal opinion the best two are The Trading Masterclass & The Advanced Traders Mindset Course.
When it comes to trading mindset and psychology, Chris Capre offers some incredible resources. If it were up to me, The Advanced Traders Mindset Course would be a prerequisite for every single new trader to go through before placing any live trades.
The sad reality is that most trading services out there don't even cover the topic of trading psychology, as if it doesn't even exist. But it's probably the most critical aspect of trading success. Of course other aspects matter, but an improper mindset compromises everything.
Overall, all of these resources – starting with looking up various financial terms and concepts on Investopedia, all the way through legitimate training with Thomas Kralow and Chris Capre – have helped me acquire the trading skills required for consistent success.
Hopefully these incredible resources can help do the same for you along your own trading, investing and overall financial journey.
Learn More in the Trading Success Framework Course
Written by Matt Thomas (@MattThomasTP)
Related Pages: